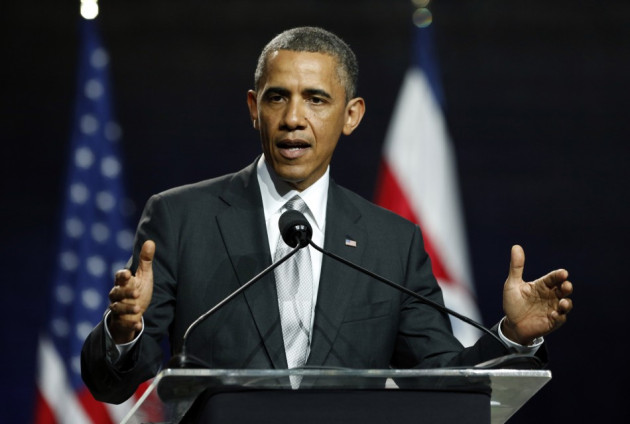 President Barack Obama has said he does not foresee a scenario in which American troops would enter Syria in a bid to solve the two-year-old conflict, but insisted that all options are on the table.
Obama emphasised that if Syrian President Bashar al-Assad had used chemical weapons, it would be a "game changer" but said the American response would not be a hasty one.
Addressing reporters in Costa Rica, Obama refused to rule out any options "because circumstances change". He, however, added that "American boots on the ground in Syria" would not be good for either of the countries.
Middle East leaders have also been consulted on the issue, he said.
If strong evidence of the use of chemical weapons is found in Syria, Washington will be expected to step up actions against Assad.
Sounding a note of caution, Obama said: "I'm going to make those decision based on the best evidence and after careful consultation, because when we rush into things, when we leap before we look, then not only do we pay a price but oftentimes we see unintended consequences on the ground. So it's important that we do it right."
Obama's remarks have come after Defence Secretary Chuck Hagel publicly acknowledged that the Obama administration is mulling arming of Syrian rebels.
Hagel is the first senior US official to openly admit that Washington is considering sending lethal aid to the anti-Assad forces.
"Arming the rebels - that's an option. You look at and rethink all options. It doesn't mean you do or you will. These are options that must be considered with the international community," Hagel had said.
Former Syrian vice-president Abdul Halim Khaddam had also urged the US to arm the opposition groups.
"The US should provide the Syrian opposition with weapons, instead of sending troops," Khaddam told Al Arabiya. He added that the daily massacres which are taking place in Syria are more dangerous than the chemical weapons.