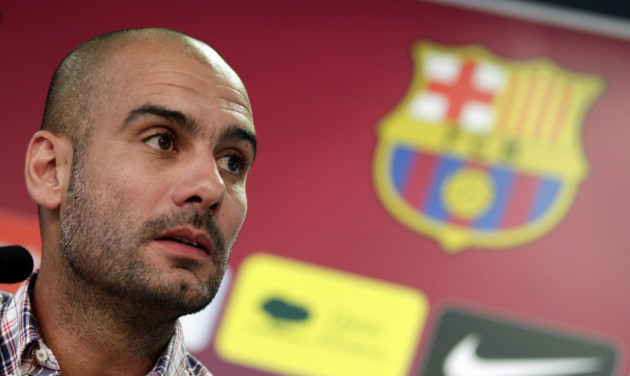 Barcelona's 2-2 draw with Valencia Wednesday could signal a changing of the guard in Europe's upper echelons. Pundits had been queuing up to fawn over Barcelona's scintillating early season form, ever since they crushed Villarreal 5-0 in the season opener.
But after throwing away a 2-0 lead at Real Sociedad earlier this month, the defending champions have now dropped four of the last nine points available and, were it not for summer signing Cesc Fabregas and a certain Lionel Messi, they could be even worse off.
And while the current European champions are still likely to qualify from Group H they had an unexpected wake-up call in their 2-2 draw with AC Milan on match day one. A result that will have provided coach Pep Guardiola with ample food for thought.
Still, it's early days and while few would suggest the Catalan club won't challenge for domestic and European honours this season there is a belief that their dominance could be coming to an end.
Domestically, Valencia have reinvested money raised through the sales of David Silva, David Villa, Raul Albiol and Juan Mata, lowering the squad's average age while retaining a number of promising youth players, including both Jordi Alba and Sergio Canales.
Atletico Madrid too, look capable of challenging the Real Madrid/Barcelona hegemony of the last three years; while Malaga have money to burn in the January transfer window.
But it is in Europe that Barcelona's dominance looks to be on the wane. The 2009 and 2011 champions are certainly the team to beat in this year's competition. They were so strong in last season's final that an exceptional Manchester United side was made to look mediocre.
Guardiola has, if anything strengthened his squad in the close season, with the additions of Cesc Fabregas and Alexis Sanchez.
However, the fact that no team has ever successfully defended their title gives this season's challengers hope.
And, historical anachronisms notwithstanding, Europe's top teams look in better shape this time around.
Sir Alex Ferguson has enacted another youth revolution at Man Utd, with a rejuvenated defence and midfield that looks better able to push Barca harder this year.
With a lucky break in the knock-out stages Chelsea possess the right blend of youth and experience to reach the final, but of the English representatives, Manchester City look best placed to unsettle Europe's traditional hierarchy.
Roberto Mancini brought wisely over the summer, with Sergio Aguero and Samir Nasri bolstering an attack that was hardly short of quality beforehand. David Silva would be more widely lauded were he not competing with Xavi Hernandez, Andres Iniesta and Cesc Fabregas in the Spain national side, while, with Yaya Toure, Gareth Barry and Aleksandar Kolarov, City possess the defensive nous to close out games in the tricky knock-out phases.
In addition, Real Madrid can never be ruled out, while Bayern Munich and AC Milan could be dark horses if the knock-out draw comes out favourably.
Barcelona are unquestionably the favourites to lift both La Liga and European crowns, and that's no bad thing, but when were the safest bets ever the most interesting? Maybe witnessing a Barcelona in decline will be more exciting for Europe's also-rans.