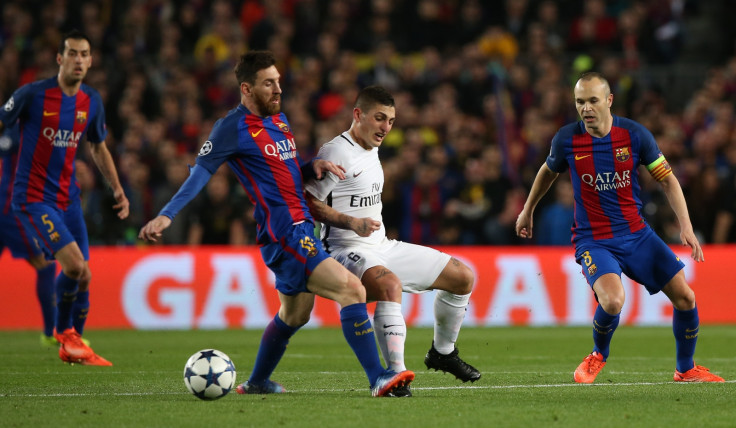 Luis Enrique has welcomed the return of Lionel Messi ahead of Barcelona game with Sevilla on Wednesday (5 April) after the Argentine international missed the 4-1 over Granada due to suspension. Meanwhile, the Spanish boss has backed his side to cope with the latest injury blow to Rafinha Alcantara ahead of a busy run of fixtures that includes a visit to Real Madrid on 23 April and the Champions League quarter-finals with Juventus.
Barcelona overcame the absence of Messi against Granada as goals from Luis Suarez, Paco Alcacer, Ivan Rakitc and Neymar were enough to to keep the pressure on Real Madrid in the battle for La Liga, remaining two points behind Los Blancos with nine games left.
Luis Enrique believes Messi's suspension was a positive for his side as the five-time Ballon d'Or winner will arrive with fresh legs for the crucial visit of Sevilla.
"We're always looking to control the number of minutes they play. Messi was out with a suspension but has been training regularly. Let's look on the positive side of the mini break he has had," the Barcelona boss said in a pre-game press conference. "We all want to see Messi out on the field and that's what we'll get."
The Barcelona boss, however, has lost two players in recent days after Arda Turan and Rafinha joined long-term casualty Aleix Vidal in the treatment room.
The Turkey international was expected to replace Messi against Granada but missed the game after suffering an injury on international duty.
Luis Enrique reverted to his 4-3-3 formation to use Rafinha in attack alongside Suarez and Neymar. However, Paco Alcacer had to replace the the 24-year-old Brazilian early in the game after the versatile midfielder suffered a blow that is expected to keep him out of action for the crucial encounters with Juventus and Real Madrid.
The Barcelona boss says he will know more about Rafinha's injury in 24 hours, but added that he still has plenty of option to choose from to face Sevilla whether he opts to use the 4-3-3 or the 3-4-3 formation.
"I have different options to keep the 3-4-3 or to use a 4-3-3. [Not having Rafinha or Turan] will change the profile of the player but I still have different options to keep the 3-4-3. I will not reveal my plans because I don't want to give clues to the rivals but I have option to play with the 3-4-3 or the 4-3-3."
Rafinha had been previously playing as a right-back in the 3-4-3 formation and asked whether Denis Suarez could be given a chance to cover that role during the Brazilian's absence, the boss said: "He is a very viable option for either system. I view him very well."
Meanwhile, Andres Iniesta is also expected to start after the captain was given a much-needed rest against Granada, coming off the bench in the second half to replace Andre Gomes.
"It's basic to have all our players at their best level. Andres has had some bad luck with injuries this season but he's back in top form and training fantastically," the Barcelona boss said. "It's great to have him for the stretch run."
Elsewhere, Luis Enrique confirmed he plans to take a sabbatical year next season after previously announcing that he will be leaving his current position in the summer.
"If I'm leaving Barcelona, my home, where I have a great relation with the club and the players, it's purely for tiredness, I need to recover. I'm not thinking about other teams," Luis Enrique confirmed. "It's a year to recover, but now what's left is to end the season with all our objectives achieved."