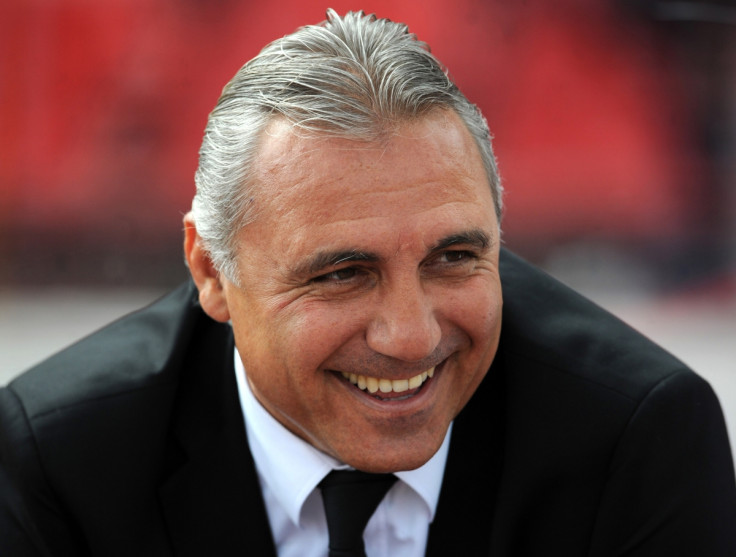 Barcelona icon Hristo Stoichkov has reopened his feud with Louis van Gaal after mocking the Manchester United manager following the Premier League giants' early elimination from the Champions League. The Dutch boss failed to lead his side to the last 16 of the competition after a dramatic 3-2 defeat at Wolfsburg on Tuesday night (8 December).
The 1994 Ballon d'Or winner Stoichkov claimed in March that van Gaal was "scum" after they enjoyed a problematic relationship during their time together at the Camp Nou. The Bulgarian icon scored 162 goals in 336 appearances for the Catalan giants during two different spells but was forced to leave the team in 1998 after falling out with the current United boss.
Stoichkov took advantage of United's elimination from the Champions League group stage to send a message to his former boss in his Twitter account.
"Everyone (is) in the place (he deserves)! Come on Manchester United," Stoichkov wrote on his Twitter account, attached to a picture of Van Gaal.
Earlier this campaign Stoichkov warned Pedro Rodriguez against moving to Old Trafford after claiming that the Dutch boss was destroying United as he previously did with Barcelona, while criticising his style during the Premier League win over Tottenham in August.
"I'd never be under the orders of this Dutchman. If he goes there he would no longer be a footballer. He is destroying all the players, because it is so mediocre, notice players who have he left because of him," the Bulgarian international said during an interview with Onda Cero. "He destroyed Barcelona at that time. He is one to destroy good work that takes years to build."
"It turns out that £200m was spent and the other day I saw his first game in the English League [against Spurs]. They won 1-0 with a disastrous own-goal and he is happy. Mind you, he has to have a short little memory."
Van Gaal, who won the La Liga twice at Barcelona along with the Copa del Rey and the Uefa Super Cup, later responded by saying: "I always want to consider who is saying such things and I already know why."
"It is not bothering me. As a manager, I have to decide a lot of things. He is one of the players I sent away and that is why he is doing that," Van Gaal said, as quoted by the Daily Mail. "They can comment but it is not always the truth what they are saying. That is always so in this world, especially in the football world. I'm used to that."