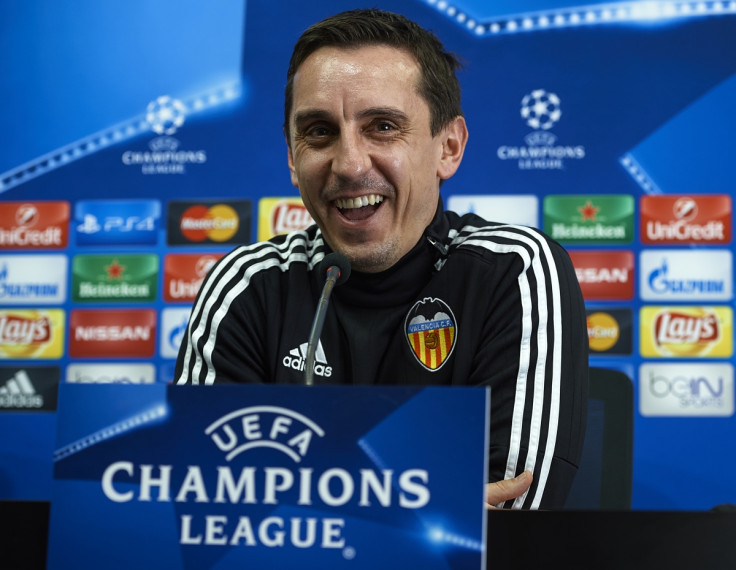 Manchester United legend Gary Neville has made his first major decision as Valencia manager after deciding to rescue Alvaro Negredo from exile ahead of the decisive Champions League game against Lyon on Wednesday night (9 December).
The former Manchester City striker has been out of action since October 4 after falling out with former boss Nuno Santo but Neville has not hesitated in reintegrating the Spaniard in the squad ahead of a crucial game which could mean the elimination of his new side even with a victory.
Valencia arrive at the last game of the group stage sitting third in the table with six points, one behind Gent and nine behind a Zenit St Petersburg side who have already qualified. Los Che therefore will say goodbye to the competition even if they win, should Gent claim a victory at home.
Neville is aware of the size of the challenge but, hoping Gent fail to get victory over the Russians, he has opted to include Negredo in his squad. However, Ruben Vezo will miss the game due to suspension, while key midfielder Andre Gomes remains on the sidelines alongside long-term absentees Diego Alves, Rodrigo, Lucas Orban and Antonio Barragan.
Negredo started the competition as the team's number nine after scoring a crucial goal against Monaco in the Champions League play-off to book Valencia a place in the group stage. However he has been missing in the squad since the defeat against Athletic Bilbao early in October after allegedly questioning the methods of the former manager to play with just one striker.
Speaking in the press conference ahead of the game about his decision to reintegrate Negredo, Neville told AS: "I have talked to him. He has been two or three months without playing but for me he is part of the team. We will try get him ready as soon because he has been out two or three months."
The former Manchester United defender, meanwhile, says that he wants the Mestalla stadium "to be a horrible place for all other teams" to visit.
"I spoke with the players on Monday morning for about 15 to 20 minutes. I explained to them that every single player has an opportunity to play – I don't treat any of them differently. There is a fascination now with the style of play – possession and counter-attack – but can't we play both? I believe in both. I want Mestalla to be a horrible place for all other teams."
"I'm focused on staying calm. It is impossible to get all your ideas through to your players within 48 hours. We have to keep it simple and we have been working on very basic things. I don't feel anxious. Maybe as a player I did, but as a coach I don't feel like that, I feel relaxed. I am in work mode."