Lionel Messi can fully understand why Pep Guardiola has been continually linked with a move to the Premier League as he will guarantee success no matter where he manages.
The mercurial Barcelona forward is particularly close to the Spanish manager, having excelled under his guidance, winning numerous trophies and breaking a string of records with his phenomenal performances.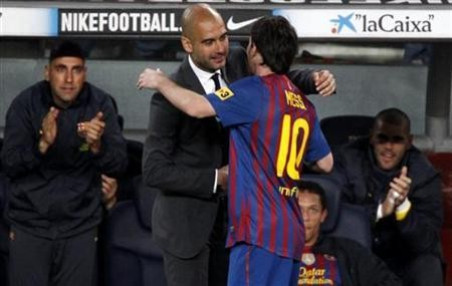 Guardiola was heavily linked with the Chelsea job when Roberto Di Matteo was sacked on Wednesday, however, Rafa Benitez was quickly appointed as Guardiola continues his one year sabbatical away from the game.
It is still expected that Chelsea will attempt to appoint the former midfielder in the summer as Benitez has only been handed a contract until the end of the season.
However, Messi, who was famously unable to attend Guardiola's final press conference as he felt he would have too 'emotional', is a firm believer in the philosophy of the Spaniard and believes he would be a success no matter where he goes.
"Guardiola will be a success wherever he goes. He is widely recognised as one of the best coaches in the world," said Messi, as quoted in the Daily Mail.
"For me he is the best coach in the world and wherever he goes he will be a success I have no doubt about that. He'll go where he wants to go and good luck to him."
While Chelsea still seems a genuine possibility in the summer, there have also been some suggestions that Guardiola could replace Roberto Mancini at Manchester City.
With Champions League qualification now unobtainable for Manchester City, there could be some pressure on the Italian manager.
With two former Barcelona employees, in Txiki Begiristain and Ferran Soriano, now working at Manchester City in senior roles at the club, it has increased speculation that Guardiola would be interested in rejoining his former colleagues.
Wherever Guardiola goes it seems that Messi is absolutely sure that the 41-year-old will be a success.