Barcelona: Luis Suarez told 'play like you did at Liverpool' by Lionel Messi and Neymar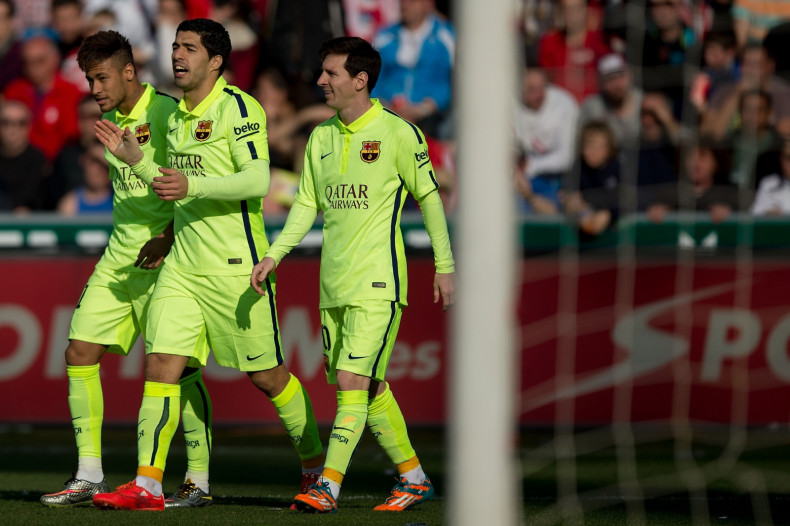 Barcelona star Luis Suarez says Lionel Messi and Neymar urged him to play like he did at Liverpool in order to rediscover his form after a difficult start to life at the Camp Nou.
The Uruguay international missed the first three months of the season due to a ban for biting Giorgio Chiellini during the 2014 World Cup.
After scoring just five goals in his first 18 appearances at the Camp Nou, some even started to question the £65m Barcelona paid Liverpool to secure his services in 2014.
But Suarez has proved the doubters wrong with 12 goals in his last 12 appearances for Barcelona, scoring braces against Manchester City and Paris Saint-Germain, as well a winner during the La Liga Clasico against Real Madrid.
The former Liverpool hero admitted he was a bit intimidated by the dimension of his new club when he started the season but said his attacking partnership with Messi and Neymar helped him overcome the situation.
"When I arrived I was timid with Messi and Neymar but they just said to me to play as I had done at Liverpool. Now I feel fine off and on the pitch and we have a good time together," Suarez said during the press conference ahead of the Champions League quarter-final second leg against PSG.
Nevertheless, the Uruguay international says he has always tried to distant himself from the critics and praise, while he does not focus on scoring but rather helping his side to win.
"I have always gone out to try and do well and I didn't listen when it was said that I was the best in the world or the worst. I am very self-critical and I carry myself the same. When things were not going well for me I was grateful for the support of people close to me. The players always were behind me and so was the coach," he said.
"At the moment I feel that I am helping the team with goals and assists but as long as the team is doing well then I am happy as well. It is not important who scores as long as the team progresses."
Meanwhile, Barcelona manager Luis Enrique has praised the former Liverpool star for overcoming early doubts to become a crucial member of his starting line-up.
And when asked about the comparison with his predecessor Zlatan Ibrahimovic, who failed to make the same impact at Barcelona, Enrique responded: "I can't evaluate that because I didn't have Ibrahimovic.
"Suárez gave us a few doubts at first. We can only speak in the highest terms of his thought process and willingness from the word go. The uncertainty you have when you sign a player is just that, even if he is world class. You have to get used to a team, your teammates, the city. It can be difficult. His adaptation has been meteoric."