Barclays CEO: Strategy Overhaul, Global Economy Will Slow Near-Term Growth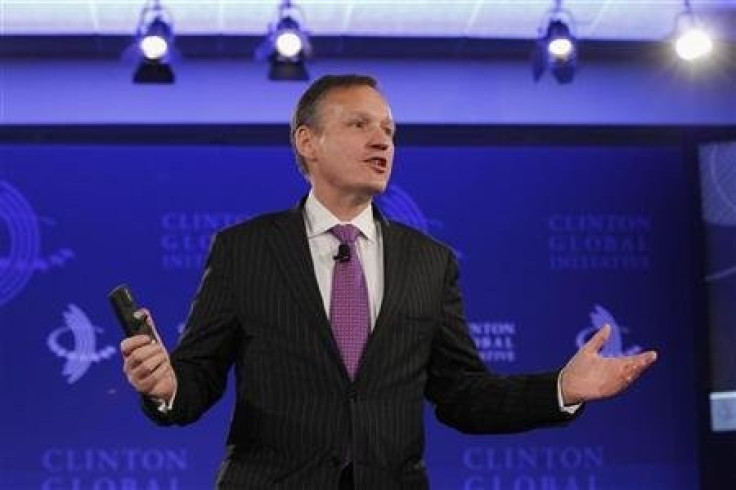 Barclays CEO Antony Jenkins has said he's committed to building a better bank even as he concedes that his massive changes will hit shareholder returns in the near term.
Speaking to Bloomberg Television soon after he revealed 3,700 job cuts amid a £1.7bn ($2.6bn/€2bn) programme of job cuts, Jenkins said he was determined to slim down the bank's balance sheet and cost base while amping up shareholder returns over the longer term.
Muted global economic growth, Jenkins said, will impact the ability of all lenders to grow their top-line revenues. In that environment, he said, it is absolutely essential to reduce costs, create a slimmer balance sheet and focus on profitable businesses.
"I think we're entering a fundamentally different environment now than we've experienced in banking for last twenty or thirty years," he said. "Our estimation of the next two to three years is that we'll see the same sort of income performance in those years that we saw in 2012; in other words low single-digit revenue growth. And therefore to deliver the returns we seek for our shareholders we need to deliver on both capital and costs and what we're talking about today is all of those things."
However, even as Jenkins admitted that the global economic environment will be challenging for all global lenders in the coming years, investment banking was still going to earn the lion's share of Barclays' bottom line.
"I will expect investment banking to be a sizeable part of the Barclays group," he told Bloomberg's Francine Lacqua. "Our expectation is that the retail businesses, retail banking, cards and wealth, will grow more quickly than the investment banking business so over time you'll get a gradual rebalancing of the group."
Investment banking profits topped £4bn last year, Barclays said in its earnings statement, a 37 percent increase from 2011. The figure represents fully 57 percent of its £7.048bn in group pre-tax profits. Retail and business banking, by contrast, generated 45 percent of the pre-tax bottom line. Half of that figure was from Barclaycard.
"I would emphasise that this is not really about thinking in terms of investment banking and retail banking, it's about a much more detailed analysis. It's about looking at the business and managing it at a seventy five unit level"
While not prepared to set a firm target for profitability, Jenkins did reiterate the bank's goal of increasing shareholder returns once the costs of the group's strategic review and head count reductions filter out over the next three years.
"What we are setting today is a number of firm financial commitments the principal one is about getting our return on equity above our cost of equity within the course of 2015," he said "We're also committing to a progressive dividend policy in 2014 which will see the dividend rise over time to 30 percent"
Barclays said profit for the year came in at £246m, down from £5.879bn in 2011. The bank took a £4.579bn charge against the rising value of its own debt, reversing part of a £2.078bn gain booked last year, £1.6bn to compensate customers who were mis-sold payment protection insurance and a further £850m to compensate small business owners who were mis-sold interest rate hedging products. Absent the charges, full-year profits rose 26 percent to £7.048bn, the bank said.
The bank announced, alongside its results, around 3,700 in new redundancies and £1.7bn in cost cuts. Around 1,800 of the cuts hit the corporate and investment banking division while a further 1,900 will come from the European retail and business banking unit. Barclays will detail the cuts in a presentation scheduled for 1230 London time. Around 1,600 of the investment banking job cuts have already taken place, the bank said.
Shares in the group rose 4.2 percent to a near 52-week high of 314.4 following the results.
© Copyright IBTimes 2023. All rights reserved.