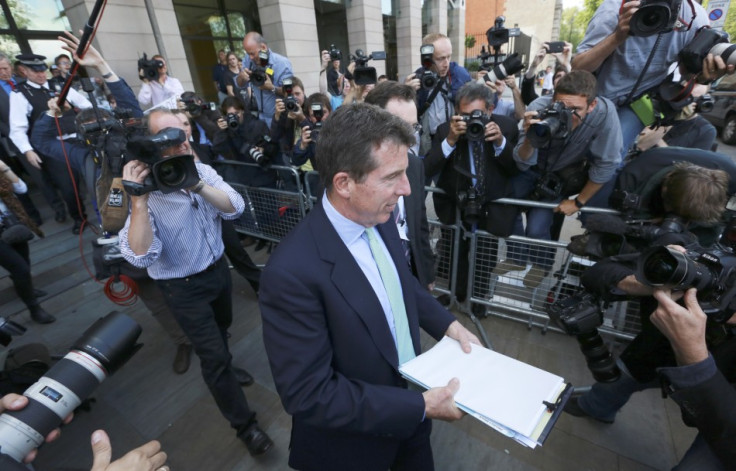 Treasury Select Committee (TSC) MPs used Wednesday's hearing on evidence from embattled former Barclays CEO Bob Diamond regarding the London Interbank Offered Rate (Libor) fixing scandal as a public flogging match, rather than a platform to seek out the truth.
In what should have been a grilling by MPs on the TSC, only a small number of questions seemed to have legitimate base or understanding of the situation, which causes concern officials may not be up to the task of leading a parliamentary-led inquiry, instead of a judicial one.
With MPs battling to prove to their constituents that they are on the public's side and are going "to get the answers they deserve," the three-hour hearing turned into an exercise of blood drawing that has become a public hearings trend in recent history.
Unfortunately, most of the MPs did the exact opposite in what they intended to do; show Diamond up.
In fact, after the hearing, it led to more questions about whether most of the MPs were capable of leading a parliamentary inquiry.
The reams of rants and tirades and, in some cases, petty complaints via social media sites littered with a lack of basic knowledge of the structure of some of the financial market or its products, coupled with the desire to lump every bank worker as a Bollinger swilling fat cat, only begs the question of will the MPs know what to ask and look for?
Knowing Where to Needle
Over the three hours of public flogging, the one thing that was striking was that MPs did not know where to needle Diamond.
The TSC hearing was the prime opportunity for MPs to put Diamond on the spot make him answer key questions to the level of knowledge he had of the Libor rigging scandal, how large a part he played in the situation and what bank practices, systems and controls Barclays had to hinder best practice.
A memo posted by Barclays on its website on Tuesday afternoon provided fodder for these key questions and it should have been an opportune moment to properly grill Diamond.
Unveiled an internal memo sent by Diamond to his predecessor John Varley, one of the most senior policy makers at the Bank of England, Paul Tucker, was dramatically implicated in the Libor-rigging scandal after Barclays officials.
The memo, dated 29 October, 2008, read: "Further to our last call, Mr Tucker reiterated that he had received calls from a number of senior figures within Whitehall to question why Barclays was always towards the top end of the Libor pricing. Mr Tucker stated the levels of calls he was receiving from Whitehall were senior and that, while he was certain that we did not need advice that it did not always need to be the case that we appeared as high as we have recently."
Tucker has since called for a talk with the TSC and MPs confirmed he should be contacted next week.
Andrew Tyrie, Conservative MP for Chichester, chairman at the TSC was one of the calmer questioners on the panel. However, he seemed to miss the point of where to needle Diamond.
He repeatedly asked what Diamond what he meant by "Whitehall" in the memo, which in fact just helped him demonstrate how he wanted to prevent misunderstanding into why Barclays' Libor rates were lower in comparison to others.
"I was worried that if the government thought that our Libor was set too high then it would then think we had inadequate funding," said Diamond. "We questioned whether the other banks could actually gain funding at the levels they were posting."
Moreover, Diamond was then able to use the hearing as almost an exercise to say how strong and well-funded Barclays was, despite the US and UK regulators slapping a record fine onto the bank over the group of traders who rigged rates.
Throughout the hearing, Diamond managed to skirt around any "tough" questions because of the lack of focus, by consistently showing that despite the Libor rigging, it had funded itself privately and avoided any government bailouts.
"Single best decision we ever made [during the crisis] was to arrange equity privately," said Diamond.
In addition, by being allowed to hammer home this point, Diamond used this to shirk off any theories of a company-wide masterplan to rig rates to show the bank was healthier than it was letting on.
Again, MPs didn't ask the right questions.
Only MP of Sevenoaks Michael Fallon and Independent Non-executive Director at brokerage Tullet Prebon brought the conversation back to the Tucker call and pinned Diamond down on the aftermath of the call.
Fallon managed to get Diamond hot under the collar when asking how his right hand man Jerry Del Missier took instruction from the email he was copied into. This is the crux of the issue.
Not Understanding Libor and Interest Rate Swaps
What would seem as one of the most crucial elements to the hearing is understanding Libor, how it is calculated, structure of submissions and of course how it effects the wider financial markets and certain products.
In what was teetering into conspiracy theory territory, circa tin foil hat wearing, MP John Thurso, a hereditary peer who became Liberal Democrat MP for Caithness, Sutherland tried to tie the Libor rigging ring to the other, very separate, scandal of the mis-selling of derivatives.
After declaring that financial markets had been a sewer of "immorality" and asking whether about 10 questions about ethics, Thurso persisted in trying to say that there must have been a systematic culture in Barclays to lower rates, in order to mis-sell derivatives to vulnerable retail customers.
Diamond responded in the form of an explanation.
"There are parts of that [accusation], that I would look at very differently, so I will walk through it," said Diamond. "Was there an impact on businesses in the UK from Libor? The issues with Barclays and other banks was about dollar Libor, not Sterling and on three-month and one-month, not longer term rates which impact retail products. It wasn't in Sterling. Even if it was, again if we remember, it's the relative ranking being changed [in Libor]."
"So the impact on businesses taking out fixed loans and swaps, in theory will have the same economic impact, even whether a fixed rate loan vs a variable rate loan. When you say the 'Libors went down because the interest rates went down' this was because, of course, the Bank of England has a lower monetary policy interest rate because of the economy, and even though if anyone took out a fixed rate loan, or a floating rate loan with a swap there would be out, not because of some issue on swaps but on overall interest rates that swaps follow. So I don't follow you," added Diamond.
Thurso's response summed up why a parliamentary led inquiry will be somewhat concerning.
"The point here is that I have just had a conversation last 3 to 4 minutes that probably has defied understanding by most people," said Thurso.
The only time he seemed to phase Diamond was when he used a cricket analogy, which comically left Diamond bewildered.
"If you were an English cricketer I think you would be Geoffrey Boycott - in occupying the crease for two hours I'm not sure we're any further forward," said Thurso.
Baying for blood
While MPs systematically managed to hang themselves with a noose of ignorance in most cases, some of the questioning and responses was just petty.
Banking culture is of course being called into question but repeatedly asking Diamond whether he "personally" felt that "UK regulation should include a more punitive regime for wrongdoers and those who act recklessly or deliberately in the financial markets" - is wasted breath.
John Mann, Labour MP for Bassetlaw, a former parliamentary private secretary to Tessa Jowell and Richard Caborn managed to spend about 5 minutes in an aggressive rant that resulted in him offering to tattoo Barclays' motto "honesty, integrity and plain dealing" onto Diamond's knuckles.
He persists in asking Diamond to "take the moral high ground" and relinquish his bonus and calls him "grossly incompetent."
Missing the Point
Teresa Pearce, Labour MP for Erith and Thamesmead had a good chance of getting to the core of whether Diamond knew about the Libor low-balling or not.
As a former senior manager in PricewaterhouseCoopers' tax investigations team and lists tax reform as a major interest, she missed the fact that Diamond "did not know about the Libor falsification until this month [July]," yet, according toBarclays 2011 annual report, released in March 2012 and signed by Bob himself, has this paragraph noting the ongoing investigations by regulators into allegations of Libor rate-fixing:
"The FSA, the US Commodity Futures Trading Commission, the SEC, the US Department of Justice Fraud Section of the Criminal Division and Antitrust Division and the European Commission are amongst various authorities conducting investigations into submissions made by Barclays and other panel members to the bodies that set various interbank offered rates. Barclays is co-operating in the relevant investigations and is keeping regulators informed.
In addition, Barclays has been named as a defendant in a number of class action lawsuits filed in US federal courts involving claims by purported classes of purchasers and sellers of LIBOR-based derivative products or Eurodollar futures or options contracts between 2006 and 2009.
The complaints are substantially similar and allege, amongst other things, that Barclays and other banks individually and collectively violated US antitrust and commodities laws and state common law by suppressing LIBOR rates during the relevant period.
Barclays has been informed by certain of the authorities investigating these matters that proceedings against Barclays may be recommended with respect to some aspects of the matters under investigation, and Barclays is engaged in discussions with those authorities about potential resolution of those aspects. It is not currently possible to predict the ultimate resolution of the issues covered by the various investigations and lawsuits, including the timing and the scale of the potential impact on the Group of any resolution."
However, she took the time to update her Twitter account by saying "really annoying that Mr. Diamond is using our first names. so rude [sic]"