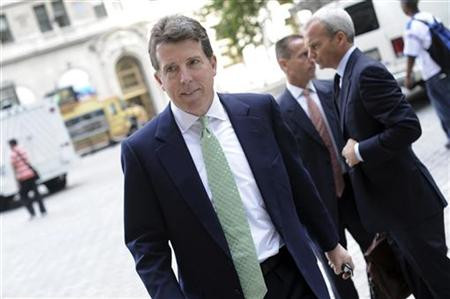 Shares in Barclays were down on the FTSE 100 in morning trading after the bank said that its investment banking president, Bob Diamond, will be replacing John Varley as CEO at the end of March next year.
Mr Diamond will also take the positions of President and Deputy Group Chief Executive of Barclays on 1 October 2010. Mr Varley is to become a senior advisor to Mr Diamond and the board until the end of September 2011.
John Varley, Group Chief Executive, said, "I am delighted that the Board has appointed Bob as my successor. What he has accomplished in his various roles at Barclays demonstrates clearly that he is a great banker and leader, and an outstanding business builder; I know that Barclays will flourish under his stewardship."
Bob Diamond, President of Barclays, said, "I am honoured by the Board's confidence in me and greatly motivated by the challenge of leading Barclays during the critical period ahead. It has been a privilege to work alongside John for the last 14 years. He has been a great colleague, partner and leader. John's exemplary leadership of Barclays has placed the Group in a terrific position to take advantage of the opportunities before us and to maintain our momentum in a changing world. I am pleased that John will continue to work with me on the very important area of
regulatory matters. Together, we will ensure a seamless transition."
Keith Bowman, Equity Analyst at Hargreaves Lansdown Stockbrokers, commented, "The appointment of Mr Diamond comes as no surprise. His leadership in acquiring Lehman Brothers' assets at the height of the global banking crisis was both brave and, with hindsight, positive, with the strengthened investment bank leading the group's subsequent recovery.
"Nonetheless, a recent veiled profits warning from Australian investment bank Macquarie, provides a reminder that challenges still exist, whilst the debate over the correct structure of the banking industry continues to rumble on. Furthermore, in times of austerity, industry compensation continues to sit uncomfortably with politicians and the electorate, while questions over broader European banking strength have resurfaced.
"In all, whilst the bank has been rewarded with a significant recovery in its share price following its successful navigation through the banking crisis, larger industry and economic concerns remain, concerns which have seen market consensus opinion move from a buy to a strong hold over recent months."
By 09:25 shares in Barclays were down 3.20 per cent on the FTSE 100 to 312.50 pence per share.