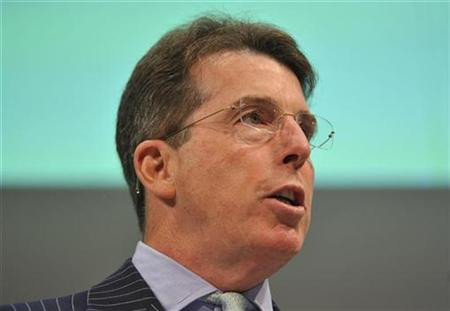 Shares in Barclays were up on the FTSE 100 in morning trading after the banking giant reported a stronger than expected rise in pre-tax profit in the full year ended 31 December 2010.
Total income net of insurance claims was reported as rising eight per cent to £31.4 billion, while net income increased 22 per cent to £25.8 billion.
The group said that its impairment charges and other credit provisions fell thirty per cent to £5.7 billion.
Barclays said its pre-tax profit increased 32 per cent to over six billion pounds, better than the £5.68 billion predicted by analysts.
The rise in profits were powered by a near doubling in pre-tax profit at the group's investment banking arm Barclays Capital. However Barclays retail banking arm also saw its profits rise by 39 per cent.
The bank added that it would be more than doubling its final dividend from 2.5 pence per share last year to 5.5 pence per share.
Bob Diamond, Chief Executive of Barclays, said, ''I am proud of what we achieved in 2010, especially our profit growth and enhanced capital and liquidity positions. We continue to believe that our integrated model provides superior benefits to our customers, clients and broader stakeholders because of its diversity by business, geography and funding source.
"Our focus is on execution, which means delivering on our commitments in four key areas: maintaining a strong capital base; improving returns; delivering selective income growth; and demonstrating our credentials as a global citizen.''
Richard Hunter, Head of UK Equities at Hargreaves Lansdown Stockbrokers, commented, "Barclays has opened the bank reporting season in some style, exceeding analyst estimates despite a challenging 2010.
"The sporadic trading difficulties in the core Barclays Capital unit had been flagged at the third quarter update in November, although the fourth quarter performance was rather more resilient. Of equal note was the significant decrease in writedowns, which will be a theme as the season unfolds over the next few weeks. Elsewhere, there is a slow but steady return towards a reasonable dividend, whilst the bank's business and geographical mix continue to provide some comfort. Concerns remain around prospects for returns given an increasingly difficult environment, whilst the industry as a whole is still subject to global regulatory scrutiny.
"In all, the results are representative of something of a return to normality. The shares have had a good run of late, rising 11% over the last three months as compared to a gain of 5% for the wider FTSE100 over that period. Even so, the group's performance speaks for itself and the general market view of the shares as a buy should be strengthened by today's numbers."
By 09:15 shares in Barclays were up 2.66 per cent on the FTSE 100 to 319.00 pence per share.