Barrage of HS2 Criticism From All Sides Threatens to Derail Sunak's First Tory Conference as PM
Hints of axing the Birmingham-Manchester line have invited wide-ranging wrath that has overshadowed the Tory conference. Official confirmation is still pending.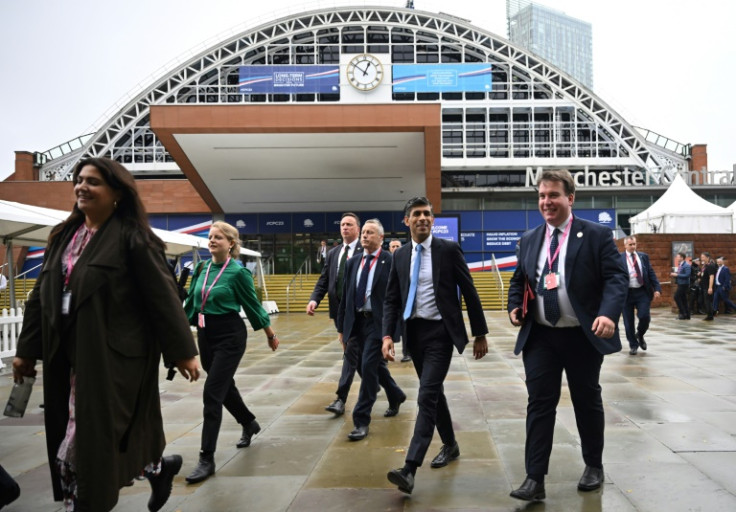 In the latest chapter of the High Speed 2 railway line (HS2) saga, Tory ministers have been dropping hints that the Birmingham to Manchester link will be the latest section to be consigned to the scrapheap.
There has been continuous speculation around an expected announcement, with previous reports that it may have come on Friday last week proven incorrect.
The yet-to-be-confirmed reports have dogged Prime Minister Rishi Sunak in recent weeks, casting a pall over proceedings at the Conservative Party Conference – hosted in Manchester, of all places – despite Sunak insisting that "we're having a great conference".
He is now expected to deliver a decision in his speech to the Conference on Wednesday.
As one Tory official told the Financial Times, it was "suboptimal" that Sunak planned to scrap a high-speed rail line to Manchester in a speech delivered in Manchester.
When pressed Tuesday morning on the BBC, Sunak kept his cards close to his chest, acknowledging that "there's lots of speculation" but insisting that "I'm not going to be forced into a premature decision because it's good for someone's TV programme".
He did, however, hint that the project costs were "enormous" and compared ongoing discussions on the topic to his decision to scrap some of Britain's net zero targets over cost concerns, a move that was widely decried at the time.
He also said that he saw the HS2 segment to Manchester as less crucial than improving rail links between northern cities. "East to west is the biggest concern most people have," Sunak told Times Radio.
The anger is bipartisan and the soundbites are coming in thick and fast - take your pick.
Former Tory Prime Ministers David Cameron, Theresa May and Boris Johnson have all warned against scaling back the line.
In an interview with The Times, Johnson said that any move to scrap the northern leg was "total Treasury-driven nonsense" and that it made "no sense at all to deliver a mutilated HS2".
Known for his many colourful turns of phrase, Johnson went on to claim: "It is the height of insanity to announce all this just before a party conference in Manchester. It is no wonder that Chinese universities teach the constant cancellation of UK infrastructure as an example of what is wrong with democracy."
Andy Burnham, the Labour mayor of Manchester, pulled no punches as he asked: "What gives them the right to treat people here in Greater Manchester and the north of England as second-class citizens?"
In a rare show of bipartisanship, Andy Burnham of Manchester was joined by Andy Street, Conservative mayor of the West Midlands, in universal condemnation. Street led a simmering revolt on the sidelines of the Conservative conference, accusing Sunak of "cancelling the future".
Street emphasised the fallout in terms of undermined investor confidence in Britain, with such a longstanding infrastructure plan axed: "If you tell the international investment community you are going to do something you bloody well have to stick to your word." He has declined to say whether he might resign over the issue.
Former Chancellor George Osborne said HS2 was "a great opportunity to deliver for northern voters" and axing phase two to Manchester "would be a great tragedy".
Yet another Tory minister lamenting the overshadowing of the Tory conference said: "It is incredible this has dragged on for so long. It has dominated everything."
The HS2 line has been billed as an integral part of the government's "levelling up" strategy, to spur growth in the Midlands and the North. It would cut journey times, decongest local railways by removing intercity express services, and directly and indirectly lead to much job creation.
Originally due to be open by 2026, the project is facing delays, in addition to ballooning costs. The currently under-construction stretch from Old Oak Common in West London to Birmingham will open between 2029 and 2033.
The segments of the line to Crewe and then to Manchester are due by 2036 and 2041.
Euston station would be ready when the full line opens. However, recent reports suggest that the Old Oak Common to Euston connection may be under threat as well.
Aides to Chancellor Jeremy Hunt did not contradict reports that he had already sanctioned cutting back of the HS2 project. "A decision will be announced in due course," suggested one.
© Copyright IBTimes 2023. All rights reserved.