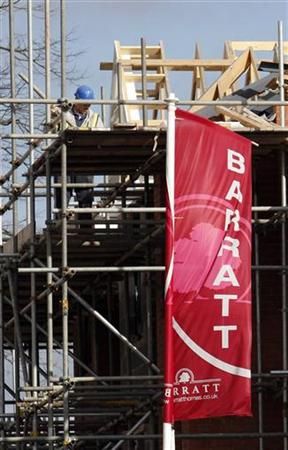 Shares in Barratt Developments were down on the FTSE 250, after the housebuilder reported another loss in the full year ended 30 June.
The group said that it made a loss before tax and exceptional items of £33 million, down from a loss of £144.1 million in the previous year. After exceptional items Barratt made a pre-tax loss of £162.9 million, down from a loss of £678.9 million in the previous year.
Despite the losses Barratt said there was some positive signs in that it had made a pre-tax profit of £15.5 million before exceptional items in the second half.
Net private reservations in the full year were up 4.2 per cent, while total completions were down from 13,277 last year to 11,377.
The average selling price of homes increased in the full year by 10.9 per cent to £174,300 thanks to changes in the group's mix, while in the second half of the year the average selling price rose 17.8 per cent.
Barratt said that it had agreed the terms of £527.2 million of land purchases and added that it had slashed its net debt from £910 million at the end of June 2009 to £366.9 million.
Forward sales as of 30 June 2010 were reported as being up 27 per cent to £591.7 million.
Mark Clare, Chief Executive of Barratt Developments, said, "During the year we have seen a very significant improvement in the performance of the business - operating margin in the second half increasing to 5.9%, returning us to profitability and gearing falling to 18%. Whilst the outlook for the UK housing market is still challenging, our priority remains optimising prices rather than volume and securing high quality land that will continue to drive our margin recovery."
By 09:45 shares in Barratt Developments were down 4.03 per cent on the FTSE 250 to 100.10 pence per share.