The Trump family have made their first visit to Camp David, the presidential country retreat.
President Trump was joined by the first lady Melania, 11-year-old son Barron and Melania's parents, Viktor and Amalija Knav. It was was his inaugural visit to the country hideaway nearly five months into his presidency, however, it was a frequent destination for many of his predecessors.
The family departed for the Maryland retreat aboard Marine One on Saturday (18 June).
Camp David is in the secluded wooded hills of Catoctin Mountain Park near Thurmont, Maryland, about 68 miles northwest of Washington DC.
The 125-acre retreat includes over a dozen cabins, tennis courts, a swimming pool, a bowling alley, a skeet range, a movie theater and a single hole golf course.
Melania Trump tweeted a photo from the trip saying: "Barron, @Potus and I enjoying beautiful Camp David! #family #sport #weekend."
As the family boarded Marine One it was noted that Barron was once again sporting an Arsenal football kit, the second time this has been seen in recent months.
He was spotted playing football on the White House lawn in Easter in a full Arsenal colours.
Prior to the trip, the National Park Service warned of disruption to the area saying: "Due to increased security measures, portions of Catoctin Mountain Park will be closed effective 9.00pm, Friday, June 16. Closures are scheduled to continue through Sunday, June 18, 2017 at approximately 5.30pm."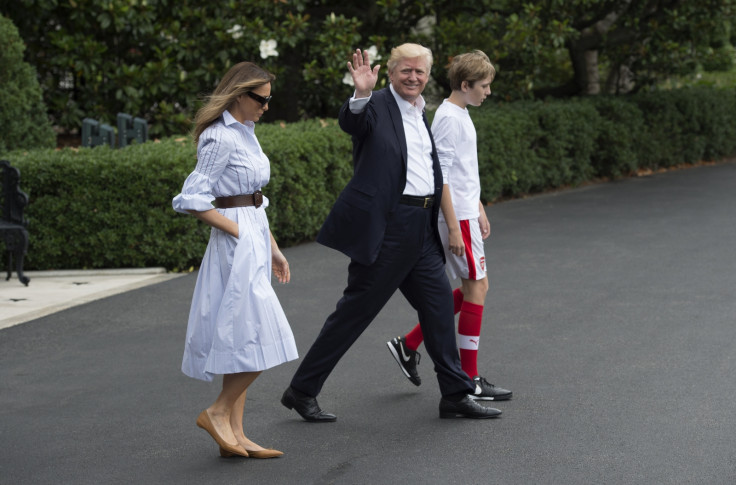 The Trumps have largely opted to spend his weekends at Mar-a-Lago in Florida and Trump National Golf Club in Bedminster, New Jersey.
Trump became the 14th president to visit Camp David, after President Franklin D. Roosevelt turned it into a presidential retreat in 1942, choosing the spot for its seclusion and security.
The haven became a regular destination for some presidents, becoming a place to welcome world leaders.
President Dwight D. Eisenhower hosted Soviet leader Nikita Khrushchev for talks there in 1959. President Ronald Reagan went there more than 150 times, riding his horse and playing host to British Prime Minister Margaret Thatcher.
President Jimmy Carter struck a peace deal there in 1978 between Egypt and Israel. President George H.W. Bush hosted Soviet President Mikhail Gorbachev for summit talks.
President Bill Clinton hosted a failed summit between Israeli and Palestinian leaders in 2000, while President George W. Bush stayed there 149 times.
President Obama was less of a fan. Although he hosted a Group of Eight summit at Camp David in 2012, he only visited the retreat 39 times.