After apologising for a photoshoot that depicted the fake bloodied head of Donald Trump, Kathy Griffin has come under fire from the president himself.
Comedian Kathy Griffin "begged" for forgiveness after sharing the images on social media, but it has been claimed that Trump's 11-year-old son Barron is having "a hard time" over the affair.
Trump tweeted: "Kathy Griffin should be ashamed of herself. My children, especially my 11 year old son, Barron, are having a hard time with this. Sick!"
Griffin was condemned by a variety of well-known faces across the US political sphere including Chelsea Clinton who described it as "vile and wrong."
First Lady Melania Trump was also shocked by the image. In a statement issued on Wednesday 31 May, she said: "As a mother, a wife, and a human being, that photo is very disturbing.
"When you consider some of the atrocities in the world today, a photo opportunity like this is simply wrong and makes you wonder about the mental health of the person who did it."
Former Republican presidential candidate Mitt Romney said: "Our politics have become too base, too low, & too vulgar, but Kathy Griffin's post descends into an even more repugnant & vile territory."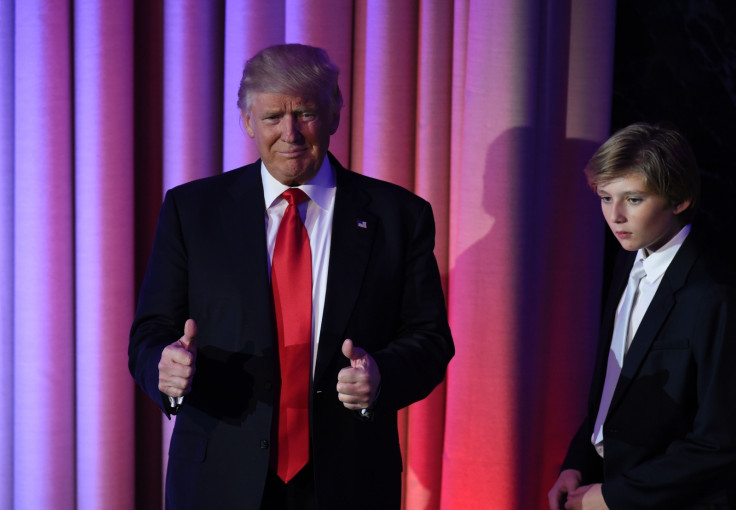 Griffin took down the insulting images from her account and replaced them with an apology video.
"I sincerely apologise. I am just now seeing the reaction of these images. I'm a comic. I crossed the line. I move the line and then I cross it," she said. "I went way too far."
"The image is too disturbing. I understand how it offends people. It wasn't funny," the actress added. "I get it. I've made a lot of mistakes in my career. I will continue. I ask your forgiveness. Taking down the image. Going to ask the photographer to take down the image.
"And I beg for your forgiveness. I went too far. I made a mistake and I was wrong."
Kathy Griffin often works for CNN on their New Year's Eve coverage. The network issued a statement on 30 May saying: "We found what she did disgusting and offensive. We are pleased to see she has apologised and asked that the photos be taken down. We are evaluating our New Year's Eve coverage and have made no decisions at this point."
Barron Trump has been kept out of the spotlight since his father became president, with only occasional appearances at public events.
He has been living in New York with his mother, Melania Trump, but is expected to move to the White House in the coming months after finishing his school year.