This is not the first time Kathy Griffin has got herself in trouble for her jokes, but this may just be one of her worst gaffes yet. The comedian is currently on the receiving end of severe public criticism after she posted a photo of her posing with a bloodied fake Donald Trump head.
The image, which she shared on Twitter, was taken by inline skater-turned-photographer Tyler Shields who is known for his outrageous and often politically incorrect photo shoots. "We have to move to Mexico today, because we're going to federal prison...we're not surviving this," Griffin said in a behind the scenes video from the shoot.
The 56-year-old may have to make that plan a reality considering the vicious backlash the photo has received from not just the Republicans or Trump supporters but also from others. "This is vile and wrong. It is never funny to joke about killing a president," Chelsea, daughter of Hillary and Bill Clinton posted on Twitter.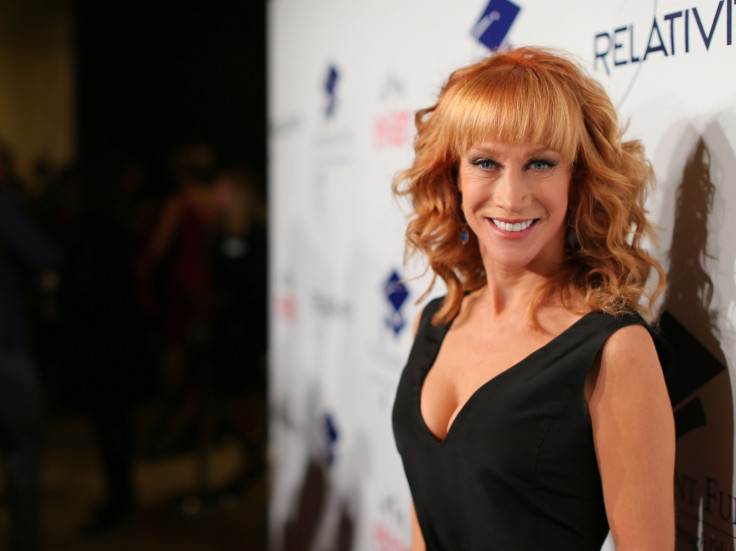 From the first family, Donald Trump Jr also expressed his outrage. "Disgusting but not surprising. This is the left today. They consider this acceptable. Imagine a conservative did this to Obama as POTUS?" he wrote.
Even the US Secret Service slammed the celebrity for the post. "Threats made against @SecretService protectees receive the highest priority of all of our investigations," it wrote on its social media account. "On it! @SecretService has a robust protective intelligence division that monitors open source reporting & social media to evaluate threats."
Seeing the error of her ways and possible legal ramifications, Griffin took down the insulting images from her account and replaced them with an apology video.
"I sincerely apologise. I am just now seeing the reaction of these images. I'm a comic. I crossed the line. I move the line and then I cross it," she said. "I went way too far."
"The image is too disturbing. I understand how it offends people. It wasn't funny," the actress added. "I get it. I've made a lot of mistakes in my career. I will continue. I ask your forgiveness. Taking down the image. Going to ask the photographer to take down the image.
"And I beg for your forgiveness. I went too far. I made a mistake and I was wrong."
Shields on his part, thought the idea for the shoot was a funny one and even joked that he would probably have to visit Griffin in prison. "I think there will be a lot of people who will absolutely hate this, but again, that's the beauty of it," he told Entertainment Weekly.
"Am I saying that anyone should actually be killed? No, it's like a movie. How many movies are there where the president gets killed or this happens? Tons upon tons. But again, when it's an image, especially an image like this, people don't see it like that. They see it as reality, and that's why it's so shocking to some people.
"I really hope that they let me visit her at Guantanamo," he added.
Following early reactions to the shoot, people are now calling on CNN to remove Griffin from its annual New Year's Eve coverage. In a 30 May statement, the news network said that it would evaluate her role on the show before announcing any changes.
"We found what she did disgusting and offensive," CNN said. "We are pleased to see she has apologised and asked that the photos be taken down. We are evaluating our New Year's Eve coverage and have made no decisions at this point."
Check out some of the other reactions to her Trump head photo: