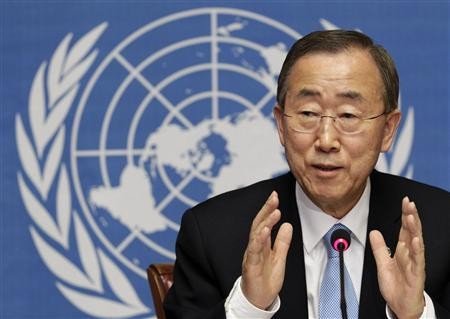 Syrian president Bashar al-Assad has committed "many crimes against humanity", UN chief Ban Ki-moon has told delegates.
Ban said that a UN report on chemical weapons would reveal "overwhelming" proof that they were used in Syria although he would not say explicitly whether it was Assad's forces or rebels who had used chemical toxins in the 21 August attack on the Ghouta region.
He refused to be drawn on the contents of the report before its publication.
US secretary of state John Kerry and Russian foreign minister Sergei Lavrov have said they hoped that diplomatic talks on chemical weapons would help reignite an international plan for a Geneva 2 conference to end the war in Syria.
Assad has stressed that the chemical weapons initiative had to be a two-way process that included the US pulling back from its threat of a military reprisal.
"When we see the US genuinely working towards stability in the region and stop threatening, striving to attack, and delivering arms to terrorists then we will believe that the necessary processes can be finalised," the Syrian president said.
READ:
Syria's Bashar al-Assad: I'll Give up Chemical Weapons
Syria Crisis: Russia Bolsters Mediterranean Naval Fleet amid Geneva Talks [VIDEO]
Syria Civil War: UN Reports Massacres by Both Sides as Sectarianism Explodes [VIDEO]
Obama Gives Diplomacy a Chance over Syria [VIDEO]
Syria: 'Napalm-Like' Bomb Dropped on Aleppo Playground Kills Many Children [VIDEO]