Syria's Bashar al-Assad: I'll Give up Chemical Weapons
Syrian dictator praises Russia's role in negotiations and says US strike threat 'did not influence us'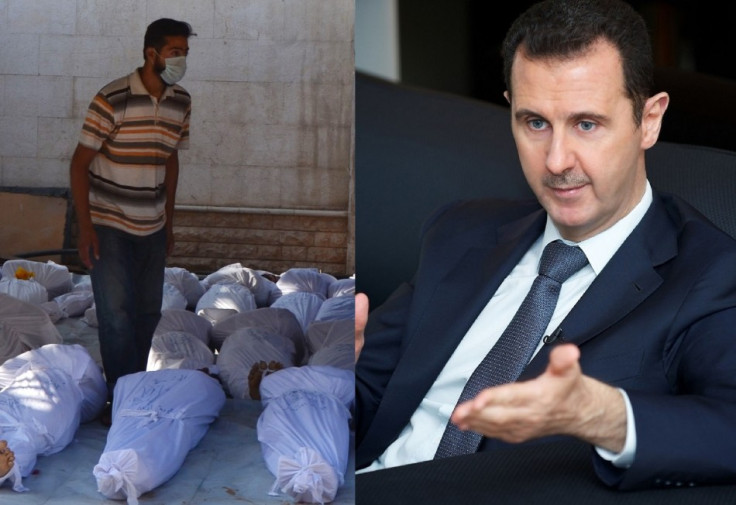 Bashar al-Assad has confirmed that Syria is willing to give up its chemical weapons stockpiles.
Appearing on a Russian television channel, Assad said he was ready to place his chemical arsenal under international control.
His announcement confirmed a statement by foreign minister Walid al-Moallem that Syria would agree to the Russian plan.
The dictator dismissed US threats to launch a punitive military action in reprisal for the gassing of almost 1,500 people in a Damascus suburb - blamed on his regime - as influencing his decision.
The regime and its allies, including the Kremlin, denied the allegations that it was responsible for using chemical weapons on civilians.
"Syria is handing over its chemical weapons under international supervision because of Russia," Assad told Rossiya-24. "The US threats did not influence the decision."
Assad, who had previously denied holding any chemical weapons, spoke ahead of talks between Russian and US foreign ministers in Geneva.
As the US was attempting to beef up international support for a strike, Russia launched a diplomatic counter-offensive seizing an offhand comment by secretary of state John Kerry, who told a press conference Assad that could avoid the attack by handing over his chemical arsenal.
Russian foreign minister Sergey Lavrov also persuaded Syria to announce its intention to sign the Chemical Weapons Convention, which outlaws the production and use of the weapons.
The move prompted US president Barack Obama to postpone a congress vote on the strike.
However Obama and British prime minister David Cameron warned that the Russian initiative might be a delaying tactic.
Washington and London have started drafting a separate resolution to submit to the UN Security Council forcing Syria to fully disclose, give up and destroy its chemical weapons.
France, which is backing the plan, suggested the text should include an authorisation to use force against Assad if he fails to comply, something Russia strongly opposes.
READ:
Syria Civil War: CIA 'Sending Light Weapons to Anti-Bashar al-Assad Rebels '
Obama Gives Diplomacy a Chance over Syria [VIDEO]
Syria Chemical Weapons: Cameron Announces New UN Resolution to be Tabled by UK, US and France
France Piles More Pressure on Syria to Hand Over Chemical Weapons with UN Resolution
© Copyright IBTimes 2023. All rights reserved.