A 23-year-old New Yorker has been charged with killing his mother and chopping her into pieces after he posed for pictures holding her severed head.
Bashid McLean has denied murdering Tanya Byrd, 45. He appeared in court dressed only in a garbage bag.
He and co-defendant William Harris, 26, have also been charged with unlawfully dissecting a human body and hindering prosecution.
McLean said: "I didn't do anything wrong."
Jerry Lannece, defending, said McLean had mental health problems and was not taking his medication.
According to the New York Post, Byrd had been stabbed to death and cut into pieces with a power saw. Her body was stuffed into heavy-duty rubbish bags, with some being stuffed inside luggage.
Before dumping them across the Bronx, McLean took a picture of himself in the mirror holding his mother's head. Police said they found the images on the accused's mobile phone.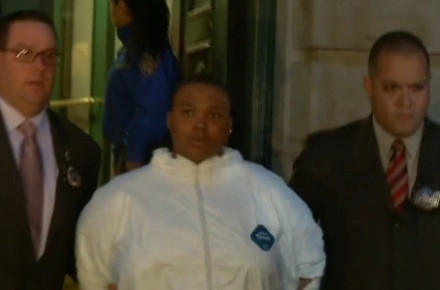 A police source told the Post that McLean had initially confessed to the killing, saying he did it because "his mum wanted him to grow up and move out and be a man".
According to NBC, both McLean and Harris went to a hardware store to buy a power saw and rubber gloves, then went back to the apartment to chop up the body.
Police said the duo attempted to clean the flat with bleach. They were seen hauling bags out of the building.
The power saw was found in Harris's girlfriend house. Both men have accused each other of the murder.
The body parts were found by an early-morning dog walker.
McLean lived with his mother and seven-year-old brother, who has Down's syndrome, in the Bronx.