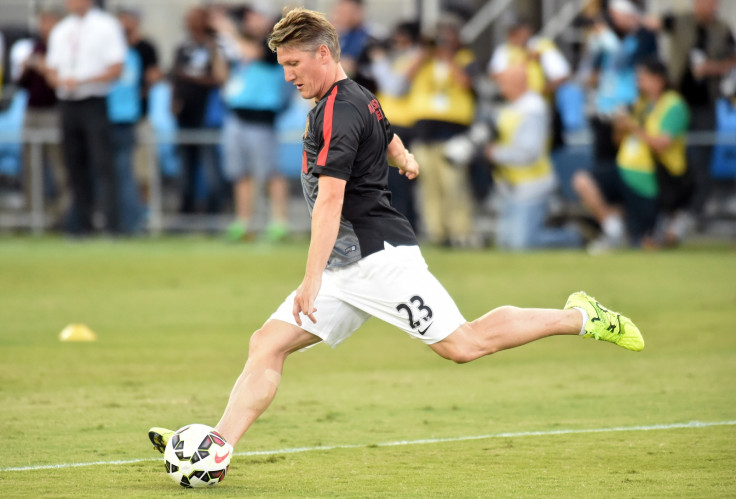 Liverpool legend Graeme Souness believes injuries to Bastian Schweinsteiger in the 2014/15 season forced Bayern Munich to let the midfielder join Manchester United.
The German international, who turned 31 on Saturday (1 August), made ​​a switch to Old Trafford and signed a three-year deal with Louis van Gaal's side earlier in July. He started in 15 league games for the Bundesliga champions in his final season in Germany.
Schweinsteiger picked up a knee injury in the pre-season match in the United States last summer. He missed the start of the previous season, before returning in November 2014. The former Liverpool manager doubts whether the midfielder will be a regular figure in the Red Devils' starting lineup in the 2015/16 campaign.
"I admire Schweinsteiger, but Bayern Munich do not sell their best players and there's a reason he has been allowed to leave," Souness told The Sunday Times .
"He started just 15 Bundesliga games for them last year due to injuries. When you get to the wrong side of 30 and pick up muscle injuries on a regular basis, it's the beginning of the end."
"He broke into the first team at Bayern when he was just 18, so there are a lot of miles on the clock. Will he improve United? Yes. Will he play in every game? Last season would suggest he did not want to."
"I will be interested to see how the midfield pans out because there will be some big egos sitting on the bench," he added.
United have strengthened their squad by making a few additions. Apart from Schweinsteiger, they have signed Memphis Depay, Morgan Schneiderlin, Matteo Darmian and Sergio Romero this summer.
Souness believes United are not in a position to challenge Chelsea for the title, but has backed their League rivals Arsenal to provide competition for the Blues next season.
"United are quite a bit off winning it, but Arsenal will be a lot closer to Chelsea this season, unless Cech gets injured," the Anfield legend explained.
"That 10 points I would put them within Mentioned two of Chelsea's total of 87 last season. Will Abramovich live to regret his sentimental decision on Cech? Will Mourinho bring the best out of Falcao? Can Kompany and Schweinsteiger remain fit?"