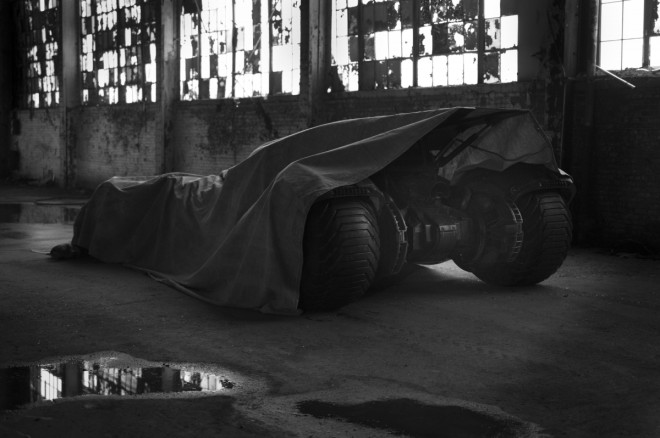 Man of Steel sequel Batman vs Superman is edging closer toward a big reveal with the new Batmobile to be announced later today (13 May) and a costume reveal expected imminently.
Zack Snyder teased the Batmobile announcement on his Twitter account with a picture showing the back end of the vehicle under a tarp.
The film's costume designer, Michael Wilkinson, tweeted that the reveals of Batman and Wonder Woman's costumes were also on their way.
From what we can tell from the Batmobile snap, it appears to blend elements of The Dark Knight trilogy's tumbler Batmobile with the shape of the Batmobile from Joel Schumacher's Batman Forever and Batman & Robin.
Snyder's follow-up will arrive in 2016, three years after Man of Steel. It stars the returning Henry Cavill as Superman/Clark Kent, Amy Adams as Lois Lane and Diane Lane as Martha Kent.
Joining them is Ben Affleck as Batman/Bruce Wayne, Gal Gadot as Wonder Woman/Diana Prince, Jesse Eisenberg as Lex Luthor, Jeremy Irons as Alfred Pennyworth and Ray Fisher as Cyborg/Victor Stone.
Batman vs Superman is pencilled in for release on 29 April 2016.