Battle of the Sexes tells the story of a legendary tennis match between then No. 1 tennis player Billie Jean King and 55-year-old former champion Bobby Riggs. Watched by 90 million people in 1973, it was an extraordinary, entertaining spectacle – but there was much more to it than that.
The match provided Riggs with a stage for his larger-than-life personality and knack for showmanship to shine, but for King the match was about sending an important message still sadly pertinent today.
King wanted equal pay for female tennis players, and that's where Battle of the Sexes starts: with the young player (portrayed by the wonderful Emma Stone) standing up to the Lawn Tennis Association (LTA), which pays male players eight-times more.
Breaking off from the LTA, King leads a group of female players on their own tour, which catches the attention of Riggs (Steve Carell), whose marriage is on the verge of falling apart due to a gambling problem he ignores.
Battle of the Sexes becomes a fairly straight forward sports biopic in its second half, but in the first it's an interesting portrayal of two big personalities as their true, imperfect selves.
Riggs is a showman struggling to recapture the thrill and glory of his 1940s heyday, wilfully ignoring his own problems no matter the pain he causes his wife. He isn't cast as a villain though: he clearly, truly loves his family and for all his chauvinist grandstanding the film captures the sense that there's a decent man in there somewhere.
Carrell is perfectly cast in a role that lets him showboat as his charming self while relishing ample opportunity to display a vulnerability that makes Riggs work as much more than the pantomime villain he could have been.
Likewise, writer Simon Beaufoy and directors Valerie Faris and Jonathan Dayton don't make King a virtuous hero either. While she's certainly the hero of the story, her struggle with her sexuality and the hurt she causes those closest to her, is a real focus on the first half of the film.
At the time, King was married to Larry King (Austin Stowell). On tour she meets hairdresser Marilyn (a superb Andrea Riseborough) and the pair embark on an affair. The scenes between the two are masterfully shot, including perhaps the sexiest hair-cutting scene ever committed to film.
King ends up hurting both of them. She cheats on Larry and pushes Marilyn away due to the negative effect her sexuality would have on her career and the tour if she were outed. Those around her be dealt blows, but they're shown to be understanding and supportive rather than victims or jealous lovers.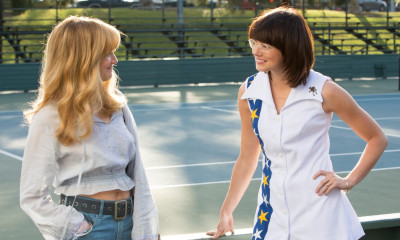 King initially turns down Riggs's offer, but changes her mind after he easily beats a replacement. As she explains later on, she's not out there to beat an ultimately harmless clown like Riggs, she's out there to prove a point to the true villain: the LTA.
The real villain of the piece is its president Jack Kramer, played by a particularly slimy Bill Pullman, embodying institutionalised misogyny so well audiences will root for his humiliation before he's finished directing his first creepy compliment at King.
Battle of the Sexes could easily have been a simplistic and trite story that positioned Riggs and King's match as some kind of turning point when in reality it was a small victory in a very long war for equality – a war that continues to do this day.
It's sad how relevant the film is in 2017, but it works to the benefit of the film. Its problem though is that as a purely sporting spectacle, the tennis match itself is unremarkable and lacks drama. It's recreated lovingly, but whether you know the end result or not, the film struggles to generate any urgency.
The early setup delivers a rousing conclusion, but one that unfortunately grinds to a halt so Alan Cumming's fashion designer Ted – a character who sticks out as a caricature throughout – can send audiences home with some of the film's worst dialogue. It's an ending as disappointing as a championship-deciding double fault.
Our verdict
Battle of the Sexes is an enjoyable sports movie sadly let down by some of the reality it's trying to depict. Billie Jean King and Bobby Riggs are two characters worth building a film around, and the film does well to portray both as more complex than they might have been in less capable hands, but the actual match they had doesn't make for a great conclusion to this small slice of their story.