BBBofC investigating David Haye 'f*****g r*****s' comment ahead of Tony Bellew fight
General secretary Robert Smith says board are 'disappointed' with language and ban will be considered.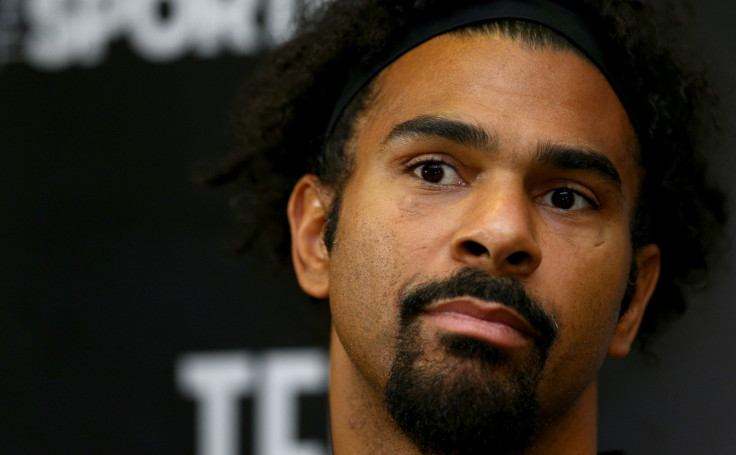 David Haye's attempts to return to the summit of global boxing could be halted by a ban from the sport for using offensive language prior to facing Tony Bellew on Saturday [4 March]. During a fight week press conference in Bellew's home town of Liverpool, the Haymaker labelled the baying crowd as "f*****g r*****s" and will now be subject of an investigation by the British Boxing Board of Control [BBBofC].
The 36-year-old had already landed himself in hot water after threatening to "hospitalise" Bellew, warning the Merseysider fighter – who is a father of three children – he wanted to "cave his skull in" during their bout at the O2 Arena this weekend. The pair have been at loggerheads since the fight was confirmed in what is set to be an explosive encounter.
Haye, a former WBA heavyweight champion, has made no secret of his hopes of re-capturing the world title with Anthony Joshua and Joseph Parker – the holders of the IBF and WBO belts respectively - in his midst. But those ambitions could be curtailed by a possible ban for his recent outbursts – though there is no indication this weekend's fight is in jeopardy.
BBBofC general secretary Robert Smith said, according to The Sun: "We'll get the fight out of the way and do what we deem necessary. It's not a very good term and shouldn't be used. We are very disappointed with this behaviour. There had been lots of comments around this fight already and now this. We take all these matters very seriously.
"I have conversations with all the parties involved with regard to the further lead-up to the contest. "They had all been warned already and I reiterate that warning. It so happens that we have a Board meeting next Wednesday when this will be discussed."
Taunting has long been accepted as part of pre-fight build-up, with punishments for crossing the line between gibes and personal threats few and far between. In 2009, Chris Arreola was banned for six months for swearing into a microphone after losing to Vitali Klitschko. Adrien Broner was also banned for racially abusing Carlos Molina in 2014, but penalties are rare.
Both Haye and Bellew were kept apart by high levels of security in the first of several media events in Liverpool leading up to their much-anticipated fight. The pair scuffled in the press event to launch the fight back in November, with Haye punching Bellew after they clashed heads.
They will meet again in the final press conference on Thursday [2 March] when they are again set to be restrained. Twenty-four hours later both boxers will then weigh-in ahead of the fight in their final meeting before the contest.
© Copyright IBTimes 2023. All rights reserved.