David Haye believes his bout with Tony Bellew on 4 March will be "one of the most brutal beatings inside a British boxing ring" and says his opponent is in for a "horrible, horrible night". The 36-year-old is currently preparing for his heavyweight blockbuster with Bellew at the 02 Arena and is unsurprisingly confident about his chances of victory against 'The Bomber.'
Haye, whose scathing attack is the latest in a bitter back-and-forth between two of the biggest names in domestic boxing, declared he never wanted to fight Bellew and thinks the bout will inevitably be "called into question".
Speaking exclusively to IBTimes UK, Haye said: "I not only believe I'm gonna win, I believe this is going to be one of the most brutal beatings inside a British boxing ring and it will call into question why this fight actually happened."
"People will look at this and think how irresponsible were we all to get behind a fight that's this one-sided. It's only after the event that people look and think actually 'who called for this?'. I never called him out, I never once said I want to fight this guy, he's the one who started screaming and shouting, his promoters contacted me. I'm like if you want it, I'll give it to you, but it's not going to be nice. If you really want it, we can do it."
Haye was speaking at the launch of Hayemaker Ringstar, a promotional company owned by him and former CEO of Golden Boy promotions Richard Schaefer. The ethos of the company is to 'put the fighter first' and the pair promise to be fully behind any fighter on their roster. But Haye is not interested in lending Bellew a helping hand and does not envisage a "happy ending" for the Evertonian.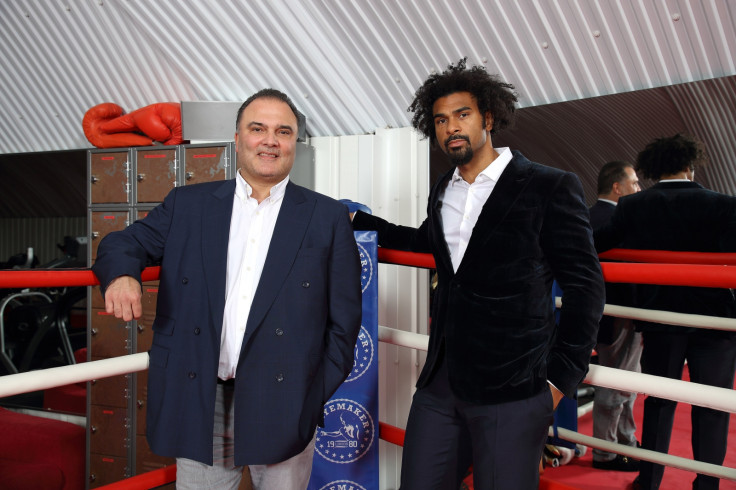 "Everybody's earning well out of this fight but the only guy who really is going to lose is Tony Bellew," Haye added. "He thinks by getting a big fat paycheck at the end of it that he's going to have some happy ending but he doesn't realise he's got to be in a physical state to enjoy that money, which I'm struggling to see how he will.
"It sounds brutal, a bit crass, whatever you want to say but it's the cold, hard realities of life. If someone said I'm gonna get £1m if I jump out of a 10-storey building, what would you say to them? Hmmm, good luck with that. At the bare minimum you're gonna break your legs, that's the minimum. It's a similar situation here, he's jumping out of a 10-storey building."
Haye, who has been preparing for the fight in Miami, went on to liken his bout with Bellew to a public execution. The Bermondsey-born boxer thinks the fans coming to watch the event at the 02 Arena hate the WBC cruiserweight champion to such an extent that they want to see him punished.
"He's already tried to spend the money, it's a crazy situation but the fans want it." said Haye. "The fans dislike him so much that they'll pay to see it. People used to pay in the UK and come out in their droves to watch public executions. It was a big thing, it would've been box office in today's standards. People want see this guy get punished."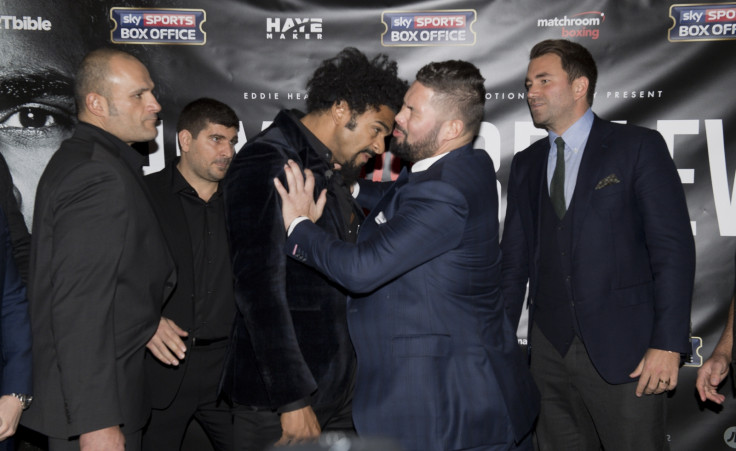 Bellew recently branded Haye a "coward" and demanded that he apologises for punching him during a fiery press conference in November. The former WBA heavyweight champion is not in the mood to say sorry, however, and challenged Bellew to back up his claim.
"I think any fighter who steps through the ropes at any level is not a coward. Tony Bellew knows what it takes to get in the ring, win a title, win the WBC title. He won that against a guy who wasn't a world champion. It was a vacant title.
"When I challenged for my world title I had to go and fight a Don King-promoted fighter [Jean Marc Mormeck] in France, in his hometown – I was a huge underdog. I went over there for not that much money but because I believed that I could do it and I did it. I became the number one fighter on the planet, so for him to say I'm a coward is just words really.
"He's got an opportunity to prove that I'm a coward on 4 March, a huge opportunity, but I don't believe he brings enough firepower, I don't believe he has the skillset, the mental capabilities to cope with such a big event. He's never had to deal with anything on this level, he's never had a guy standing across the ring who punches like I punch, who's got the experience both amateur and professional.
"I've sparred better guys than he's sparred, I have a better coach, in every department I trump him. He's hoping that Father Time comes knocking and all of a sudden I just don't turn up on the night. But if that's his only hope then he's in for a horrible, horrible night."