BBC down: Fear of New Year's Eve cyberattack as broadcaster's website serves 500 error message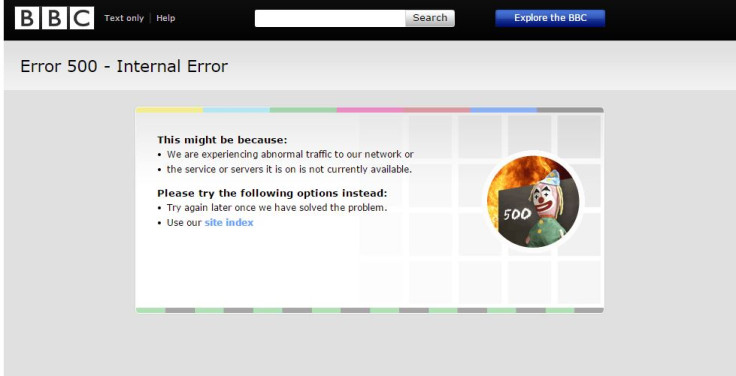 The entire BBC website was down for more than two hours this morning, sparking fears the broadcaster had become the victim of a New Year's Eve cyber attack. Users were greeted with a "500" error message instructing them to "try again later when we have fixed the problem".
In a message posted on Twitter, the BBC press office wrote: "We're aware of a technical issue affecting the BBC website and are working to fix this now. We'll update you as soon as we can." As of 10.30am the problem appears to have been resolved, although the service remains shaky and the BBC still wouldn't comment on the precise nature of the problem.
The issue caused something of a meltdown on social media where some users suggested the site could be down due to a DDoS (Distributed Denial of Service) attack. Such an attack sees the website bombarded with simultaneous requests, overwhelming the servers and causing the website to crash.
A degree of New Year's blitz spirit was still in force over the issue, however, with Twitter user @ThEvilHasLanded saying: "The trains are buggered, half the country's under water, the BBC news website is down. Where's the champagne?"
Others joked that it could be the millennium bug finally hitting 15 years late. "Don't Panic, Don't Panic >>> @BBC website seems to have gone down... It's not that nasty millennium bug is it? #Error500," user William Green wrote.
While many appeared to panic at the thought of the website being down, others urged users to adopt a more level-headed approach. "According to most people on Twitter, the BBC website being down is basically all four horsemen of the apocalypse come at once," the Guardian's Technology Editor Jonathan Haynes wrote.
© Copyright IBTimes 2023. All rights reserved.