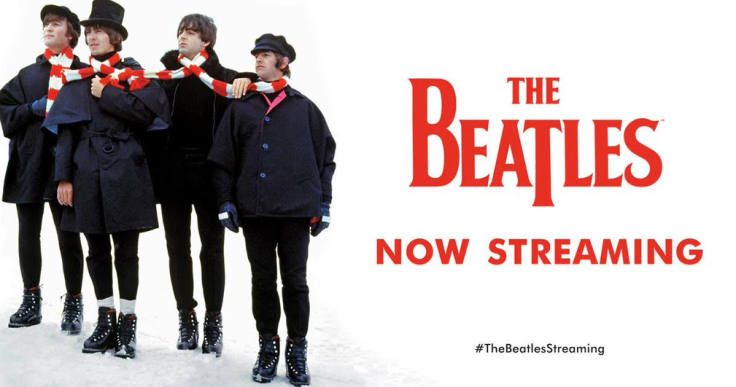 Yesterday you wouldn't have found The Beatles on any streaming service. But hey, there's a revolution because it's finally happened.
The Beatles have arrived on music streaming services for the first time with the likes of Spotify, Apple Music, Google Play and Tidal all rolling out the red carpet for arguably the most desired artists not available.
The band, who once called themselves more popular than Jesus, will be popping up on your streaming service on Christmas Eve – perfect timing as we enter party season (or they may just be sticking it to Jesus once again). Fans of the band have long-lamented the Fab Four were missing from the streaming scene but finally their whole back catalogue, including 224 tracks from 13 albums and past masters, will be available. That means those 17 UK number one tracks they achieved will all be available.
Even better news to twist and shout about is you'll be able to listen to them on free versions of the likes of Spotify. Not even Taylor Swift does that.
Full list of streaming services that will feature The Beatles
Spotify
Apple Music
Google Play
Amazon Prime
Tidal
Rhapsody
Deezer
Slacker (US)
Microsoft Groove
So why has it taken so long for The Beatles to arrive to industry-changing services like Spotify and Apple Music? Simply put, publishers who currently hold their back catalogue have been trying to squeeze every last lucrative penny out of re-issued albums.
"They didn't want to do anything to damage potential sales of reissues and retrospectives – it's a very lucrative catalogue, but they've waited until the market has got some scale and they could get the best deal," said Mark Mulligan from the media research firm Midia.
Of course, The Beatles haven't been in a digital wilderness entirely. It took a while but they arrived on Apple's iTunes store back in 2010 and fans have been able to watch a smattering of songs and videos on YouTube. However, having the likes of the White Album and Sgt Pepper's at your streaming disposal ready to populate your once-lacking playlists will come as a huge relief for some. It'll also serve as a great way for a whole new generation of listeners to browse and experience.