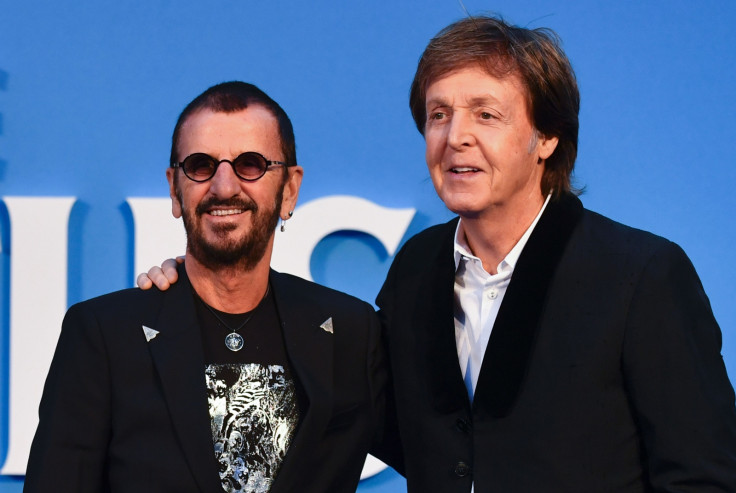 The Beatles enjoyed a rare reunion over the weekend. Surviving band members Sir Paul McCartney and Ringo Starr spent the day together in the recording studio on 19 February sending fans on a trip down memory lane.
Providing a window into their recording session, a photo shared on Starr's Twitter shows McCartney, 74, with his arm around his former Beatles bandmate. In the caption, Starr, 76, wrote: "Thanks for coming over man and playing. Great bass. I love you man – peace and love."
Eagles singer Joe Walsh also joined the Hey Jude legends for the studio hangout and appears in a second photo which Starr captioned: "And look out Joe W. came out to play what a day I'm having peace and love." According to Billboard, a publicist for Starr confirmed McCartney is contributing to the Beatles drummer's next album.
Bruce Sugar, a producer who has worked with both Starr and Walsh on solo albums, also posted his own photo from the jamming day on Facebook, telling followers: "Magical day in the studio today with these two."
Starr is currently working on the follow-up to his 2015 record Postcards From Paradise. McCartney last collaborated with his fellow rocker on Starr's 2010 album Y Not, playing bass on Peace Dream and lending his vocals to Walk With You.
According to Sugar, it was McCartney's own idea to sing on Walk With You despite being offered bass. Recalling how the collaboration came to fruition, the producer previously told Billboard: "I don't think Ringo would have asked him to sing on the album. But he just kind of offered up. Me and Ringo just looked at each other and offered up the mic. And he just came up with that part, which was just brilliant. It made the whole song, really. So the song was done, but his vocals were after the song was done. It was great."
McCartney and Starr have maintained a close friendship over the years. The two were last seen together on 15 February when they enjoyed dinner date with Foo Fighters star Dave Grohl and actor Tom Hanks at the Giorgio Baldi restaurant in California.
It appears Starr's next offering will be a star-studded affair with the likes of Tom Petty And The Heartbreakers star Benmont Tench and Peter Frampton among the rockers to have joined him in the studio in recent weeks.
Listen to Ringo Starr and Paul McCartney's Peace Dream: