Becky Watts: Mourners release hundreds of balloons in tribute to Bristol teenager
Tribute held in Bristol park less than a mile from where the teenager was last seen alive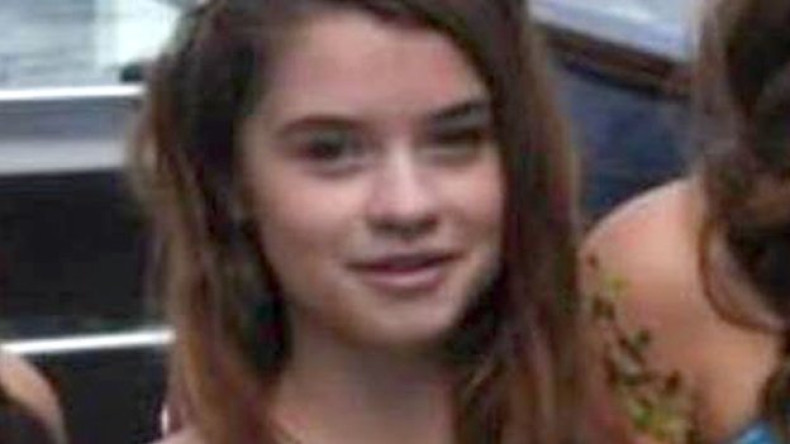 Hundreds of mourners have gathered in a Bristol park to release balloons in memory of murdered teenager Becky Watts.
Friends and family of the 16-year-old joined members of the public in St George park, less than a mile away from where she disappeared, to release hundreds of helium balloons in tribute. Her father, Darren Galsworthy, and stepmother, Anje Galsworthy attended, as did her boyfriend, 17-year-old Luke Oberhansli, who was seen releasing a pink balloon.
Becky Watts' stepbrother, Nathan Matthews, 28, of Cotton Mill Lane, Bristol, was charged with the schoolgirl's murder on 5 March. His girlfriend Shauna Hoare, 21, of the same address, stands accused of perverting the course of justice.
Four other suspects – three men and a woman – have appeared in court charged with assisting an offender by disposing of and concealing body parts.
Her grandfather, John Galsworthy, said the memorial was a fitting tribute for Becky, and expressed the family's amazement at how many people had turned up.
"It was absolutely wonderful. We really weren't expecting that many people to arrive, not as many as this," he said. "There are about 300 people here, maybe more. It wasn't organised by the family but by a lady who wishes to remain anonymous, but we heard about it and decided to come.
"As a family we're just trying to take each day as it comes and support each other through this extremely difficult time.
"Becky has touched the heart of the world, we've had condolences from all around the world, she has brought the community together.
"There were lots of colourful balloons today – that is who Becky was, she was nice, bright and wonderful."
Watts was last seen at her Bristol home on 19 February. Her dismembered body was found on 2 March at a property in the Barton Hill area of the city.
Sam Galsworthy, Becky's uncle, said on Saturday (7 March) that the family would "stand strong in court".
He added: "We will enjoy our lives as free men & women filled with love, laughter and comfort from the whole world.
"Becky is going to be laid to rest in the most loving, perfect and peaceful way."