A Chinese man has broken a Guinness World Record for the longest time spent being coated in bees – and wasn't stung once.
Ruan Liangming sat covered in approximately 100,000 bees for 53 minutes and 34 seconds in Yichun city in China's Jiangxi province.
He also became a record holder for carrying the heaviest load of bees wearing a suit of 62.1 kilogrammes (136 pounds) of bees beating previous winner, Vipin Seth, from India who wore a bee suit of 135 pounds.
Liangming was filmed on Guinness China Night programme, produced in partnership with Chinese broadcaster CCTV.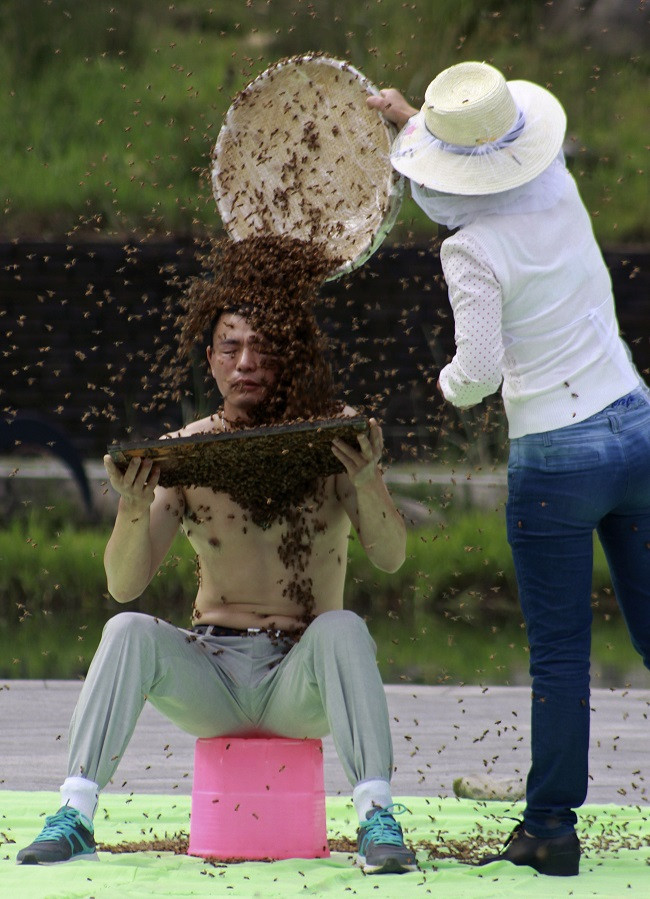 He said: "I love bees and they love me. Although they call me Bee Beard I am rarely stung by my flying friends.
"As long as you keep still and don't agitate the bees then all will be well. They are most gentle creatures really and extremely clever. They are sensitive to movement so I just keep as still as possible and they like to settle on me.
"I love bees. They are my life."
She Ping, a 34-year-old honey merchant from the southwestern Chinese metropolis of Chongqing, also covered himself in 460,000 bees weighing more than 45 kilogrammes (100 pounds) to generate sales for his brand of honey.
He bragged: "Of the people who do it naked, I'm probably the most awesome."
Bee bearding is a global practice that goes back to ancient times. Hive bees swarm to a person after a queen bee is positioned somewhere on the body.