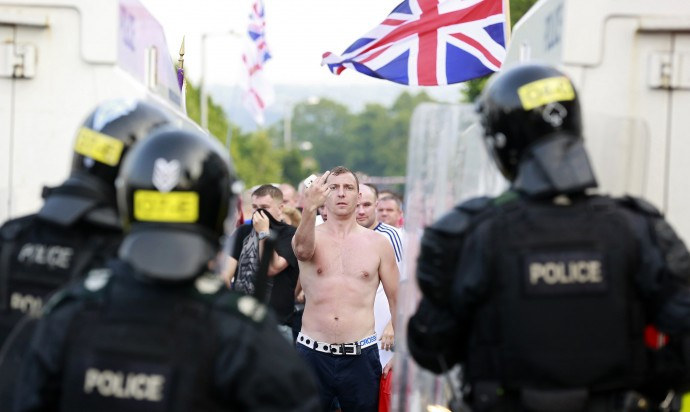 Police in Belfast have arrested a 29-year-old man in possession of an assault rifle and ammunition who "intended to endanger life", officials say.
The unnamed man was arrested on Grosvenor Road in west Belfast on Thursday after police stopped a taxi as part of an operation targeting dissident terrorist activity.
Detectives from the Serious Crime Branch detained the man and recovered the weapon and bullets, foiling a brutal gun attack on a member of the public or police force.
Three other men, aged 27, 29 and 46, were arrested during a follow-up operation in the Springfield Road area and are still being questioned.
One of the men is also being questioned about a rocket attack on police in north Belfast four days earlier.
During the attack last Sunday, a man ran out of Brompton Park with a rocket-propelled grenade launched before firing it at a police Land Rover close to the loyalist camp at Twaddell. The rocket damaged the vehicle but nobody was injured.
A surge in dissident republican attacks in Belfast in recent weeks has left police officers in the area feeling like "sitting ducks", the Belfast Telegraph reported earlier this week.
One serving officer said he and his colleagues were deeply concerned for their safety and had been raising concerns over guarding an interface in north Belfast for several weeks.
The officer said police tasked with guarding the interface felt their "every move was being watched by dissident Republicans, and fear further attempts on their lives in the coming months".
An "interface" is the name given to an area where segregated nationalist and unionist residential areas meet in Northern Ireland.
Part of the Grosvenor Road was closed on Thursday night and the early hours of Friday morning, but has been reopened.
The accused is due to appear at Belfast Magistrates Court on Monday.