Tens of thousands of Protestant loyalists are marching through Belfast today as the marching season reaches its peak. Around 3,500 police officers are on duty across the province, a third of them in Ardoyne, north Belfast, where the Parades Commission has banned a march past Catholic homes this evening.
Last night bonfires were lit across Belfast and a man was stabbed in fighting between Republicans and Loyalists near a bridge on Ormeau Road. The bridge marks the spot where the two communities meet, although it is usually relatively peaceful.
A Police Service of Northern Ireland (PSNI) spokesman said: "At approximately 3.10am, police received a report that a man had been stabbed and that rival factions were fighting in the area. Police attended the area and the two groups were separated at approximately 3.30am. Police stayed in the area for several more hours to ensure that the area remained calm."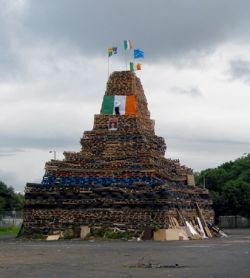 Today's march will be the first to be overseen by the PSNI's new chief constable George Hamilton, who beat Metropolitan Police assistant commissioner Cressida Dick and An Garda Síochána assistant commissioner Derek Byrne to secure the job. Hamilton has been a police officer since joining the force in 1985, when it was the Royal Ulster Constabulary (RUC).
"I think we are in as good a place as we can be just now," said Hamilton. "I'm optimistic, but it's a cautious optimism and I'm just hoping that people take responsibility for their own actions and they need to understand that, as I've said throughout the past couple of weeks, the police will do our piece to keep people safe and also to collect evidence where people step outside of the law."
Last night there was a petrol bomb attack on a community centre and a "viable" letter bomb was found at a sorting office on Mallusk Road in the north of the city.
Today 17 marches will take place and Grand Lodge of Ireland Grand Secretary Drew Nelson said: "I would have a message for young protestants or any protestant or unionist who feels strongly about what's happening now. If you lift a stone or a bottle on the twelfth day you are falling into a republican trap."
The date, 12 July, is commonly said to mark the anniversary of the defeat of Catholic King James by Protestant King William in the "Battle of the Boyne" in Ireland in 1690. Actually the battle ended on 1 July in the Julian calendar or 11 July in the Gregorian calendar. The decisive Battle of Aughrim took place a year later on 12 July (Julian calendar).