As part of his Europe tour, US Vice President Mike Pence met with the Prime Minister of Belgium on 19 February during which the two discussed future stability of the European Union and efforts to improve relations between the two countries.
Charles Michel along with Minister of Foreign Affairs Didier Reynders, met with Pence at the Val-Duchesse castle in Brussels, hours after the VP attended the Munich Security Conference in Germany. Speaking to the press following their dinner meeting, Michel said that the two had an "intense" and "constructive" conversation.
"There is no question of allowing fragmentation of the European Union," Michel told reporters, according to Politico. "That message was given. I feel that it has been heard by Mr Pence."
The White House released a statement of its own, explaining that the "working dinner" was to discuss means by which the two countries could strengthen ties and discussed steps to deepen the "robust partnership" between the United States and Belgium.
"The leaders agreed on the need to grow jobs, reduce the regulatory burden, and maintain strong borders. They also exchanged views on global challenges including Ukraine, Turkey, Libya, Iran, and the Israeli-Palestinian conflict," the White House statement read.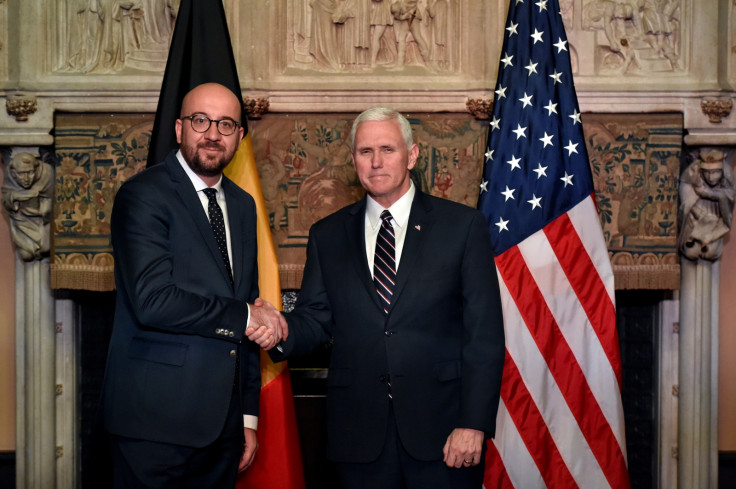 "The vice president emphasised the enduring US commitment to Nato, and the leaders discussed the need for greater burden sharing to ensure Nato has the capabilities to meet 21st century threats. The vice president expressed his condolences for those lost in the March 2016 terrorist attacks in Brussels, and the leaders agreed on the need to continue cooperating on counterterrorism," it continued.
"I bring greetings from Donald Trump," Pence said on meeting Michel and thanked him for welcoming him to Brussels – a city he described as "such a beautiful place". Trump however, does not share the same opinions and, during his presidential campaign, referred to the city as a "rat hole".