US Vice-President Mike Pence has promised the country will be "unwavering" in support of Nato in the first major foreign policy address by the Trump administration at the Munich Security Conference on Saturday (18 February).
The former governor of Indiana also demanded Russia honour a 2015 peace agreement in Eastern Ukraine between government forces and Russian separatists, despite attempts from President Donald Trump to find common ground with Russia's President Vladimir Putin.
In a powerful speech, Pence told European leaders that the US will "stand with Europe today and every day".
"The United States has been faithful to Europe for generations and we will keep the faith," he affirmed.
"We share path and, after all we've been through, we share a future. Today, tomorrow and every day hence be confident that the United States is now and will always be your greatest ally."
The statement from Pence comes following a period of uncertainty surrounding the relationship between the US and Nato.
Trump has repeatedly criticised the organisation, labelling it as "obsolete" in an interview with the Times last month and issued it with an ultimatum this week to increase defence spending or the US will reduce its commitment to the alliance.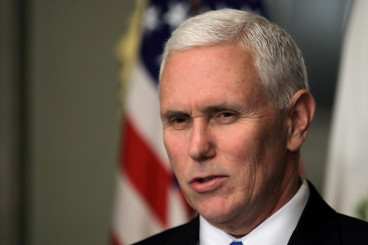 However, Pence moved to ease such fears, stating that the US would be "fully devoted" to Nato and benefit from strength in numbers.
"Be assured, President Trump is fully devoted to our transatlantic union. Our choice today is the same one as it was in ages past – security through shared sacrifice and strength or an uncertain future, characterised by disunity and faltering will. Well, the United States chooses strength."
With combating terrorism still an urgent priority of all Nato members, Pence reiterated Trump's stance to "fight tirelessly" against radical extremist groups, including Islamic State (Isis), and "consign them to the ash heap of history where they belong".
He also promised that other threats, such as Iran, would "never be able to obtain a nuclear weapon capable of threatening our countries", earmarking Israel as especially vulnerable.
Pence will now hold face-to-face talks with German Chancellor Angela Merkel, who addressed the conference before the vice-president, as his European visit continues.