Belgrade's forgotten child refugees burn rubbish to keep warm as Europe freezes
Serbia's social and asylum services have not offered any support, shelter or protection.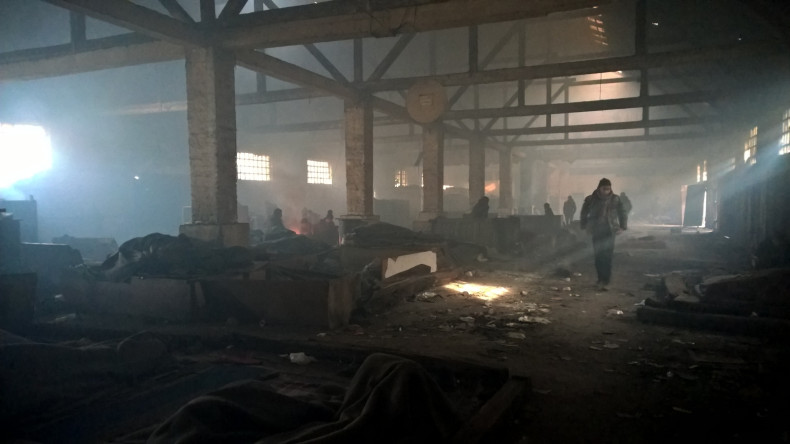 In a corner of a cavernous abandoned warehouse in Belgrade, 11-year-old Ahmed huddles around a small fire with four other boys. They are boiling potatoes, a meagre meal that is likely to be the only food that they will eat today. Outside, the city is blanketed in snow.
Despite the morning sunshine that streams though the glassless windows, forming translucent beams in the smoke-filled air, the temperature outside is -10C. Inside it is not much warmer.
The boys, all from Jalalabad in Afghanistan, feed the fire with any scraps they can find, including plastics. This produces acrid smoke that stings the eyes and scorches the throat.
They have been staying in the warehouse behind Belgrade's central station for more than two months. The boys told me that no one from Serbia's social or asylum services has offered them any support, shelter or protection.
Indeed, last November the government issued open letters calling on NGOs and volunteers to stop providing help to the refugees and migrants in the capital. Of the estimated 1,200 in the city, at least a quarter are unaccompanied children. They have little or no access to proper sanitation, running water, healthcare or warm clothing.
Despite the call from the government, a small group of volunteers defies the police and visits the warehouses and makeshift camps scattered around the capital. They try to provide one meal per day for adults, who form long queues in the snow. A nearby family centre offers some additional meals for children. Médecins Sans Frontières comes by to care for those with injuries and has had to treat people for frostbite, skin infections and respiratory diseases.
The government's claims that it called on NGOs not to support refugees and migrants to encourage them to come to official camps, are disingenuous. There is not enough room in the official camps. One boy told me he was repeatedly turned away from asylum centres. "I was told there is no space. I tried in Belgrade, Šid, Adaševci. Then I went to the police station but they couldn't help me," he said. "I didn't think it would be this difficult. This situation is exhausting me, physically and mentally."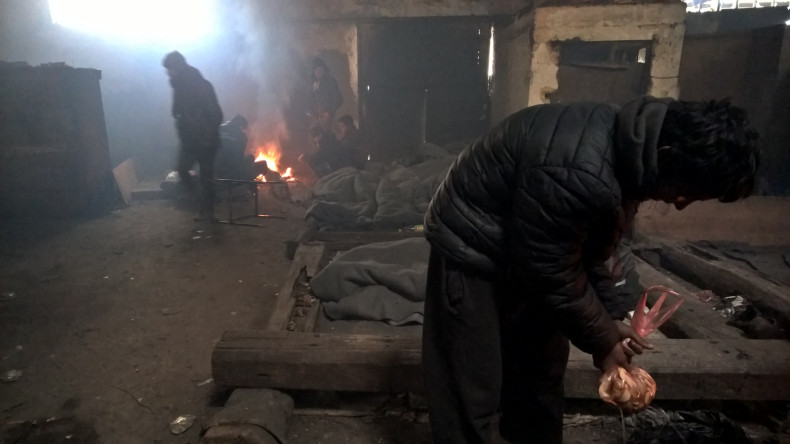 When it becomes apparent that they are not welcome in Serbia, many refugees attempt to go elsewhere. Those I met recounted terrible experiences with border guards in neighbouring EU states: Hungary pushes back those who attempt to cross its fences and Croatian guards are increasingly doing the same.
Mohammed, a 13-year-old boy from Kabul, told me he was pushed back from Croatia seven times. His friends were returned from Hungary. In Bulgaria, through which most of these people have transited, refugees are freezing to death.
As these EU member states have closed their borders, these refugees are stranded there as freezing temperatures grip large swathes of the continent.
In Belgrade and across the continent, children like Ahmed have been quite literally left out in the cold.
And the Serbian welcome is a cold one too. Last year, the Serbian government set a limit for the number of asylum seekers it would accommodate at any one time. Only 6,000 beds have been made available, despite the large number of refugees and migrants in the country.
Government officials claim refugees choose to be homeless and refuse to go to centres. But refugees and asylum seekers speak of a very different reality, where there are not enough spaces to accommodate them. Instead they are trapped in a dehumanising daily struggle to find warmth and food.
In the past few days, after widespread international media reports on the freezing conditions, the Serbian government announced the reopening of a temporary reception facility in nearby Obrenovac and the transfer of around 250 people there. More help was allowed in from United Nations High Commissioner for Refugees and other organisations. But it is not enough.
In these uncertain times, few things are more assured than the changing of the seasons, yet winter seems to have taken the Serbian authorities and European governments by surprise when it comes to refugees. In Belgrade and across the continent, children like Ahmed have been quite literally left out in the cold.
---
Todor Gardos is Amnesty International's Serbia researcher. Ahmed and Mohammed are not their real names.
---