Andres watched with a muted expression as his three-year-old daughter rummaged through boxes of second-hand toys at a storage unit in Doral, Florida, a few steps west of Miami.
Three weeks ago, he was a successful musician in Venezuela: today, he is queuing for charity having fled the ruin and despair of what can only generously be called failing state.
"The economic situation makes it very hard to live. Caracas is so dangerous, you cannot go out after 5pm," he said of the Venezuelan capital. "We had to take the decision. There was no hope."
Indignity swells like humidity on the fourth floor of the storage facility where Patricia Andrade and her band of female volunteers at Raíces Venezolanas throw open the shutters each Friday afternoon to give recent arrivals things like bed sheets and cutlery.
"It is too sad for me to see my community coming to ask for things," Patricia said after comforting a young woman who sobbed as she asked for towels. Denounced by now-President Nicolas Maduro in parliament as a terrorist for her human rights work, Patricia says that today's refugees are just desperate for help with basic living.
"Toys are the most important," she said. "People are scared that immigration will search their bags and ask 'why have you come with toys, are you planning to stay?'"
They almost always are. The numbers are impossible to calculate as almost all arrive by airplane on tourist visas, but it is believed that up to 500,000 Venezuelans have fled the deteriorating country for America in over the last two years, with another million spread across South America and Spain.
Cursed with an abundance of oil, former president Hugo Chavez came to power in 1999 in the hope of arresting the country's financial woes and economic inequality with a radical socialist agenda. While he initially found success, halving the poverty and unemployment, he brutally suppressed civil liberties and destroyed the economy.
Chavez's chosen successor Nicolas Maduro became president 2013, his only apparent qualifications a growing penchant for Maoist tailoring and a luxury moustache – and a bird that he claims whispers the instructions of Chavez to him.
Maduro has escalated the nationalisation of corruption, incompetence, organised crime, and drug trafficking. His regime's only imports are Cuban doctors, Cuban repression tactics, and Chinese loans, and with drilling companies leaving the country due to unpaid bills, printing money and kidnapping are the only steady industries.
I met Eric, 40, at El Arepazo, a Venezuelan restaurant behind a gas station that has become a gathering place for the community nicknamed "Dorezuela." He fled his home city of Maracaibo two years ago after the private milling company he managed was nationalised. "They were threatening me and harassing my family. They would call and come to our house and say 'I'm going to kill you.' One day, the Collectivos [government-affiliated gangs] came in to the factory armed and ordered us to leave. That's when I said 'enough'."
First and foremost, I want to stay in America. I don't want my kids to keep moving.
Across the intersection from this epicentre discontent lies the fringes of Trump National Doral, an 800-acre luxury golf resort said to be one of the incoming president's most profitable worldwide businesses – an irony is not lost on Eric, who has a pending asylum claim.
"I am worried about Mr Trump," Eric said. "I am being extra careful, making sure I follow the law. But I was a professional, you know, not a criminal."
"Terrified" of being deported, Eric would seek asylum in a third country rather than risk being returned to his homeland. "But first and foremost, I want to stay in America," he said. "I don't want my kids to keep moving from place to place."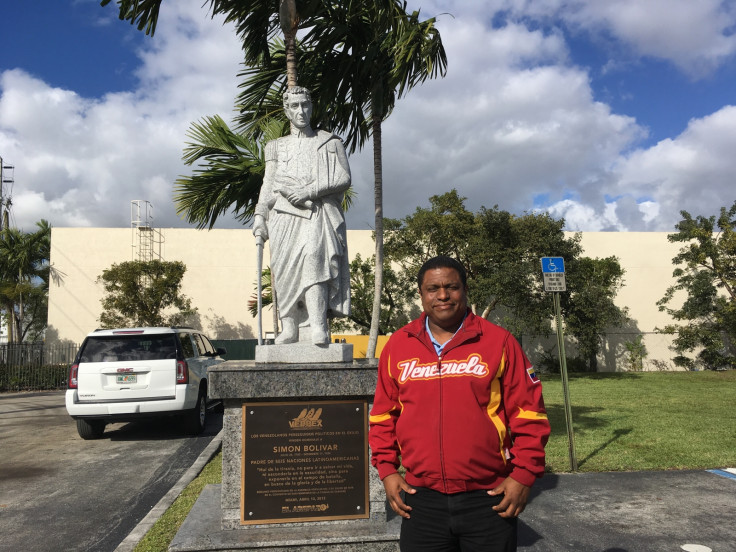 On his meagre salary, Eric is also funding his father's treatment for prostate cancer back in Venezuela. "It's like a prison. There's a food shortage and no medicine. His doctor sends me the prescription here, and I buy the medicine and send it back to him. It costs me about $80 a month," he said.
Eric and his brothers are trying to scrape together everything they can to raise enough money to allow their father to leave and receive medical treatment. "He says all the time, he would prefer to die in America than live in Venezuela," Eric said.
"Everyone has depression or anxiety. The only people making money in our country are the psychiatrists."
At a rally in Miami in September, Trump vowed to "stand with the oppressed people of Venezuela yearning to be free," but words the Venezuelan community has heard are the promises to jail and deport illegal immigrants, as well as crack down on those employing them.
Community advocate Jose Antonio Colina, a former army lieutenant who participated in the attempted coup against Chavez in 2002, is trying to organise politically. "Like the Cubans, we need congressmen, our people need status, it is not our culture to live illegally," he said.
As president of Politically Persecuted Venezuelans in Exile, he is inherently wary of populism and "any friend of Putin", and fears that "Trump is more racist than anti-socialist."
Last week, president Obama ended the decades-long amnesty for Cubans who arrive illegally, saying their applications will be treated like citizens of any other nation. Colina believes that this is fair, although the government should now consider special protection for Venezuelans.
At a press conference this week, Nicolas Maduro tried to flatter President-elect Trump despite the historic tensions between the two nations. "We are surprised at the brutal hate campaign against Donald Trump in the whole world, in the western world," he said.
Even with his public profile, Jose Colina fears that his special protection status could be revoked by the new administration in a climate hostile to immigration, particularly from Latin America.
"I can't travel outside the United States because the regime still has me listed on Interpol," he said. "If I am returned, they are going to kill me."
---
Elle Hardy is a freelance writer and photographer. This article was amended on 24 January, 2017 at the request of the author.
---