Bellway, the housebuilder, enters the second half of the year with an order book of £423 million, having already reserved or legally completed 83% of this year's target, with an expectation to reach double-digit operating margin for the six months to 31 January. The group is scheduled to report its interim results for the six months ended 31 January, 2012 on Tuesday.
The spring selling season is about to start and the previous year offers a demanding comparison in terms of reservations. However, with visitor levels having increased by around 20 per cent since the starting of January and with the government's new Mortgage Indemnity Guarantee scheme about to be launched, early indications are that the housing market remains tough. To what extent this toughness is sustainable will be assessed when the group announces its interim results on 27 March.
While commenting on the 2011 annual results, Chairman Howard C Dawe said: "Bellway aims to continue to increase both volumes and average selling prices, the latter by way of ongoing changes in the product mix. This, combined with the improvement in the operating margin, should ensure that shareholder value continues to be enhanced."
Turnover for the group grew from £768.3 million to £886.1 million in the FY 2011, an increase of just over 15%. Profit before tax rose by 51.2 per cent to £67.2 million compared to £44.4 million in 2010 with basic earnings per share of 41.5 pence.
Analysts at Peel Hunt said the statement from Bellway had "echoes of caution". "The trading update is very much in line and, while the board is always more cautious than its peers, it has run up a couple of cautious comments," Peel Hunt said in a note. The broker believed the British housebuilding sector as a whole was overvalued and keeps fair value for Bellway shares at 615 pence, retaining a hold recommendation on the stock.
Bellway started the new financial year with 2,497 reservations and during the first nine weeks reservations are almost 11 per cent ahead of the same period a year ago. It started the year with 205 sales outlets and subject to necessary planning consents is targeting to increase more and consequently volumes to go up to 5 per cent during the course of the current year. Even as global economic conditions remain uncertain the group continues to focus on the delivery of the strategy of increasing volume, average selling price and operating margin. The ratio of product mix between houses and apartments is improbable to change radically, but as new outlets come onto the market Bellway anticipates that average selling prices and operating margins will improve further.
Below is a summary of sector comparisons in terms of price earnings, earnings per share, dividend per share, dividend yields, return on equity and price-to-book ratio. The table explains how the company is performing against its peers/competitors in the sector. The table below represents top ten companies based on market capitalisation.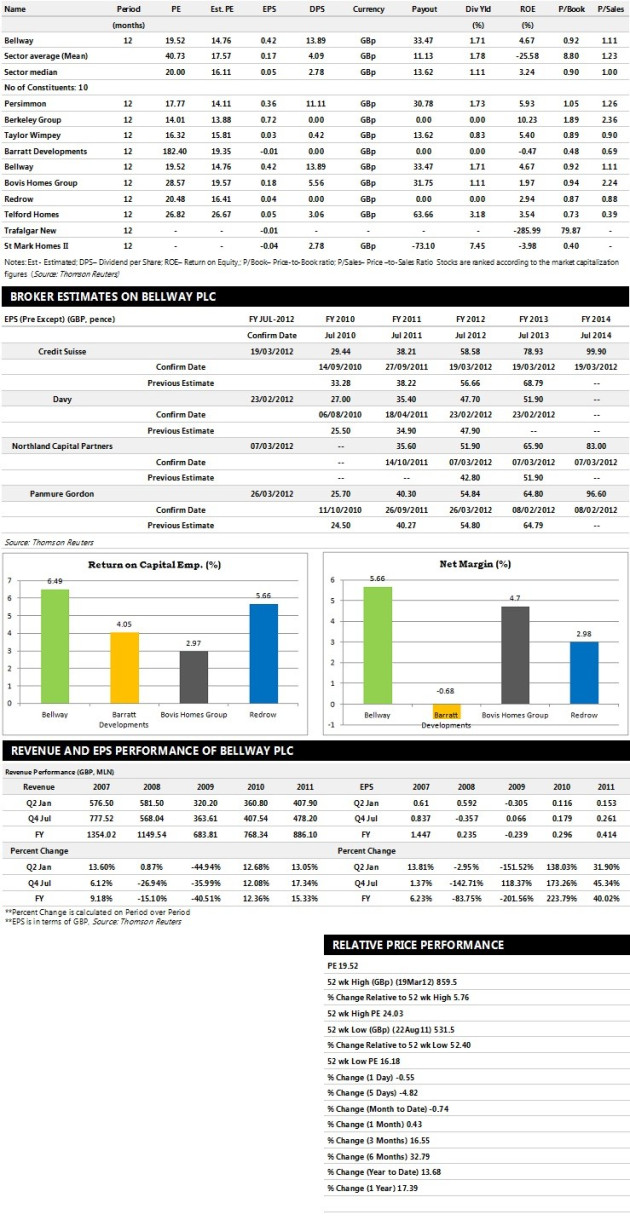 Brokers' Views:
- Panmure Gordon recommends 'Hold' rating on the stock
- Credit Suisse assigns 'Outperform' rating with a target price of 1009 pence per share
- Northland Capital Partners gives 'Buy' rating with a target price of 910 pence per share
- Collins Stewart assigns 'Hold' rating
Earnings Outlook:

- Panmure Gordon estimates the company to report revenues of £958 million and £955 million for the FY 2012 and FY 2013 respectively with pre-tax profits (pre-except) of £90.30 million and £105 million. Earnings per share are projected at 54.84 pence for FY 2012 and 64.80 pence for FY 2013.
- Credit Suisse projects the company to record revenues of £954 million for the FY 2012 and £1,035 million for the FY 2013 with pre-tax profits (pre-except) of £94 million and £125 million respectively. Profit per share is estimated at 58.58 pence and 78.93 pence for the same periods.
- Northland Capital Partners expects Bellway to earn revenues of £980 million for the FY 2012 and £1,091 million for the FY 2013 with pre-tax profits of £85 million and £108 million respectively. EPS is projected at 51.90 pence for FY 2012 and 65.90 pence for FY 2013.