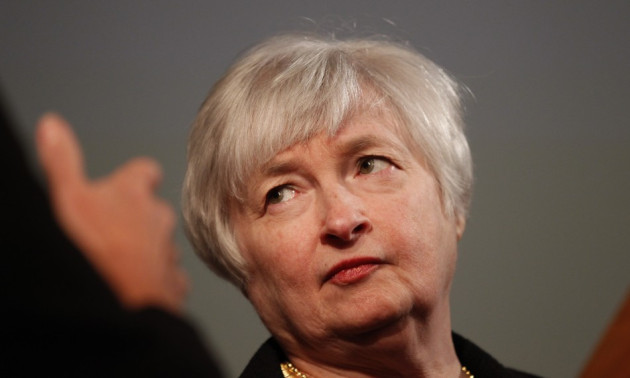 President Barack Obama will nominate Janet Yellen to become chairwoman of the US Federal Reserve, according to a White House official.
Yellen, currently Ben Bernanke's deputy at the world's most powerful central bank, became the clear frontrunner to step into the role as the world's top central banker after her rival Larry Summers withdrew from the race in September.
This is the strongest sign yet that she will replace incumbent Bernanke when his current term expires in January 2014.
One senior US senator, Democrat Charles Schumer, said Ms Yellen had the backing of politicians and would win Senate confirmation "by a wide margin".
The chairman of the US Senate Banking Committee, Tim Johnson, said she had "a depth of experience that is second to none".
"I have no doubt she will be an excellent Federal Reserve chairman," he added.
Yellen's nomination comes at a time of fierce dispute between Democrats and Republicans over the US's $16.7tn debt mountain and levels of public spending.
Yellen, a former chief economic adviser to Bill Clinton, is regarded by many as a viable alternative to the abrasive Summers whose larger than life reputation has attracted many detractors during his career.
Safe Pair of Hand
Informed opinion makers do not expect any dramatic surprises from Yellen in terms of monetary policy.
She is expected to continue Bernanke's aggressive stimulus programme where the Federal Reserve buys $85bn (£52.9bn, €62.6bn) worth of assets per month to prop up the economy.
The dovish members of the Fed's board, including Yellen, have made it clear that these asset purchases will only scale back once the unemployment rate drops to 6.5%.
Given the current government shutdown it is unlikely Yellen will start to taper the stimulus until political instability and the prospects for economic recovery in the US improve.
Challenges for Yellen
The most difficult task facing Yellen is to avoid the partisan warfare currently being waged in Washington D.C., something her current boss has been able to accomplish recently.
In the race for the Fed, Yellen failed to generate the political heat her rival Summers managed. The latter's abrasive style and connections to Wall Street, however, did him no favours.
Instead, Yellen's quiet demeanour and academic background appreared to be winning the day.