Tickets to Hamlet, which all Benedict Cumberbatch fans have been waiting for, finally went on sale at 10am this morning. And they have been selling out fast in the last four hours, with over 31,000 people currently waiting to pass through the Barbican's online booking system.
The play, which is to take place at the Barbican Theatre from 5 August to 31 October 2015, is directed by critically acclaimed director Lyndsey Turner (Chimerica) and is also rumoured to star British actor Gary Oldman as Claudius.
Tickets went on sale exclusively to Barbican members on 1 August.
IBTimes UK started queuing at 12 noon and were placed in the queue at number 29,962. Almost two hours later, we have moved up to position 27,932.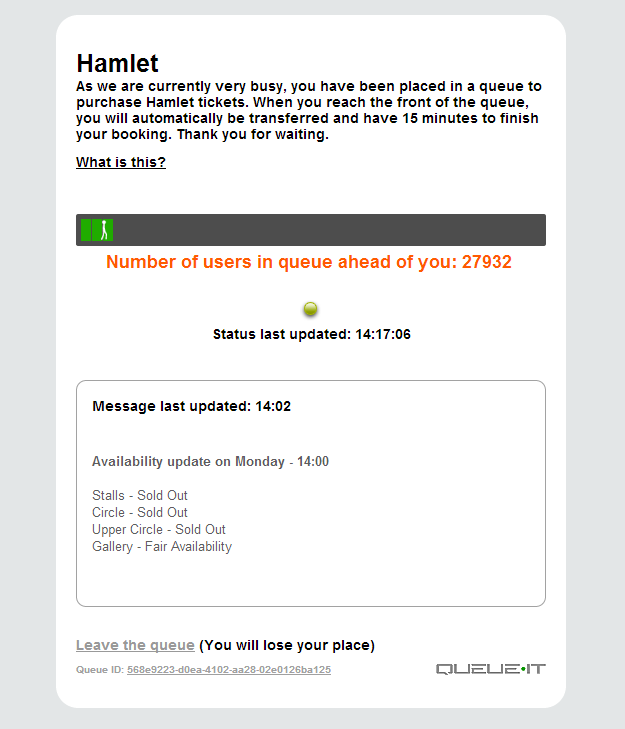 A message at the bottom of the screen states that currently all stalls and circle seats have sold out for the entire run of the show next year. The latest update by the Barbican says that there is "limited availability" for upper circle tickets and "fair availability" for gallery seats.
Given the furious rush, if you want to get your tickets, you had best start queuing now.
In playing the title role, Cumberbatch will follow in the footsteps of other British heartthrobs such as David Tennant and Jude Law.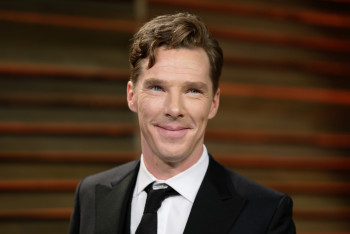 Tennant previously trod the boards as Hamlet in 2008 with the Royal Shakespeare Company and also on TV for the BBC in 2009, while Law played the character at Wyndham's in 2009.
Cumberbatch expressed an interest in playing Hamlet over two years ago.
"I hope to return to the theatre soon, hopefully as Hamlet, as it's a role I've been interested in for a long time," he told the Daily Telegraph in 2012.
He also believed he might be getting too old to play the role, adding, "I don't know if there is such a thing as a right age to play the part, but 36 or 37 seems appropriate to me, so I need to do it before long."
So, if you can't get your tickets in the initial sale, what are you supposed to do?
The Barbican has been announced that there will be 100 seats up for grabs for every performance closer to the time, placed in various areas of the audience that will cost just £10.