Bangladesh Factory Disaster: Benetton Paper Trail Discovered in Rana Plaza Rubble
EXCLUSIVE: Benetton's relationship with Rana Plaza factory supplier New Wave Style extended beyond the 'one-off' order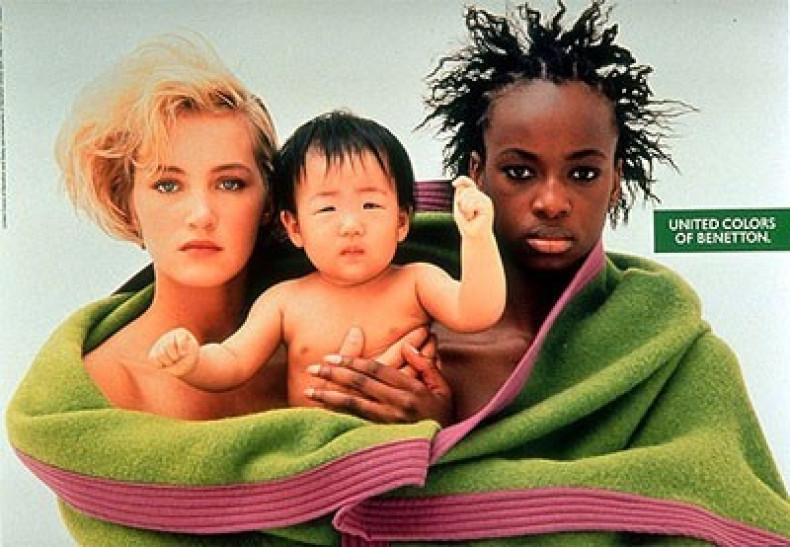 Italian fashion giant Benetton had a prolonged relationship with at least one supplier based at the Rana Plaza building in Bangladesh which collapsed last Wednesday, documents found on the rubble and obtained by IBTimes UK can reveal.
The company, which on the day of the tragedy denied that garment factories in the Dhaka building were suppliers to Benetton Group, has admitted that "a one-time order was completed and shipped out by one of the manufacturers involved several weeks prior to the incident".
The illegally constructed, eight-storey building collapsed last Wednesday leaving at least 382 people killed.
However, documents found in the Rana Plaza rubble and photographed by the Bangladesh Garments and Industrial Workers Federation (BGIWF) and Bangladesh Center for Worker Solidarity (BCWS) fand passed onto the International Labor Rights Forum, indicate Benetton had a protracted relationship with New Wave Style Limited.
One job document details, dated 7 February 2012, show an order of 25,823 sleeveless shirts to be shipped from Bangladesh to Benetton's Italian factory and headquarter in Castrette, near Treviso.
Another includes technical comments ,dated 30 July 2012, for the production of clothing of season Spring 2013. Both documents are labelled United Colors of Benetton. Furthermore, an email correspondence in July-August 2012 from Benetton India to a shipping company, Shahi Exports Pvt. Ltd., contains package details and technical comments and adjustments received from Italy on the production of a bow.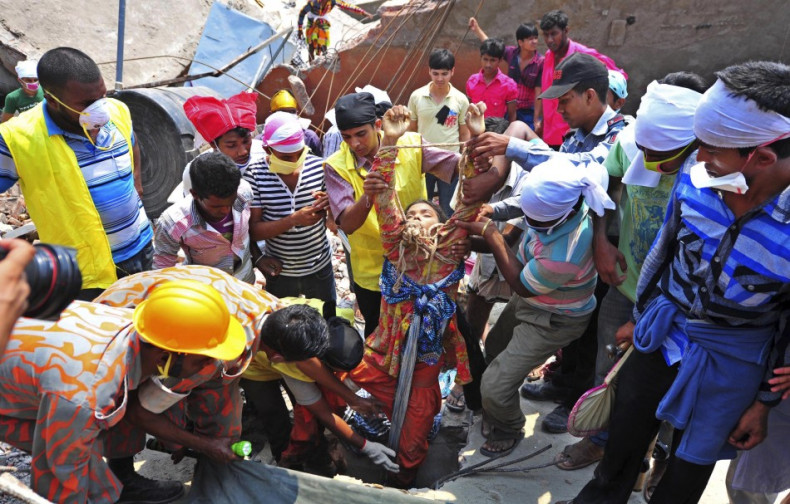 Documents labelled New Wave include two cutting plans from New Wave dated September 2012 for normal and sleeveless shirts for a total of 45,346 pieces. Those garments were to be shipped in September/October 2012 to mixed destinations: Italy, US, Shenzhen in China. Finally, the paperwork recovered from the devastated building feature a fabric receive report received on 31 August by New Wave and supplied by Shahia Export in India.
Benetton has released a statement admitting to a single order completed in early 2013. It said: "Regarding the tragic accident in Dhaka, Bangladesh, we wish to confirm that none of the companies involved is a supplier to any of our brands. Further to this, a one-time order was completed and shipped out of one of the manufacturers involved several weeks prior to the accident.
"Since then, this subcontractor has been removed from our supplier list. A programme of random audits take place on an on-going basis throughout our global supply chain, to ensure that all direct and indirect suppliers comply with our long-standing social, labour and environmental standards."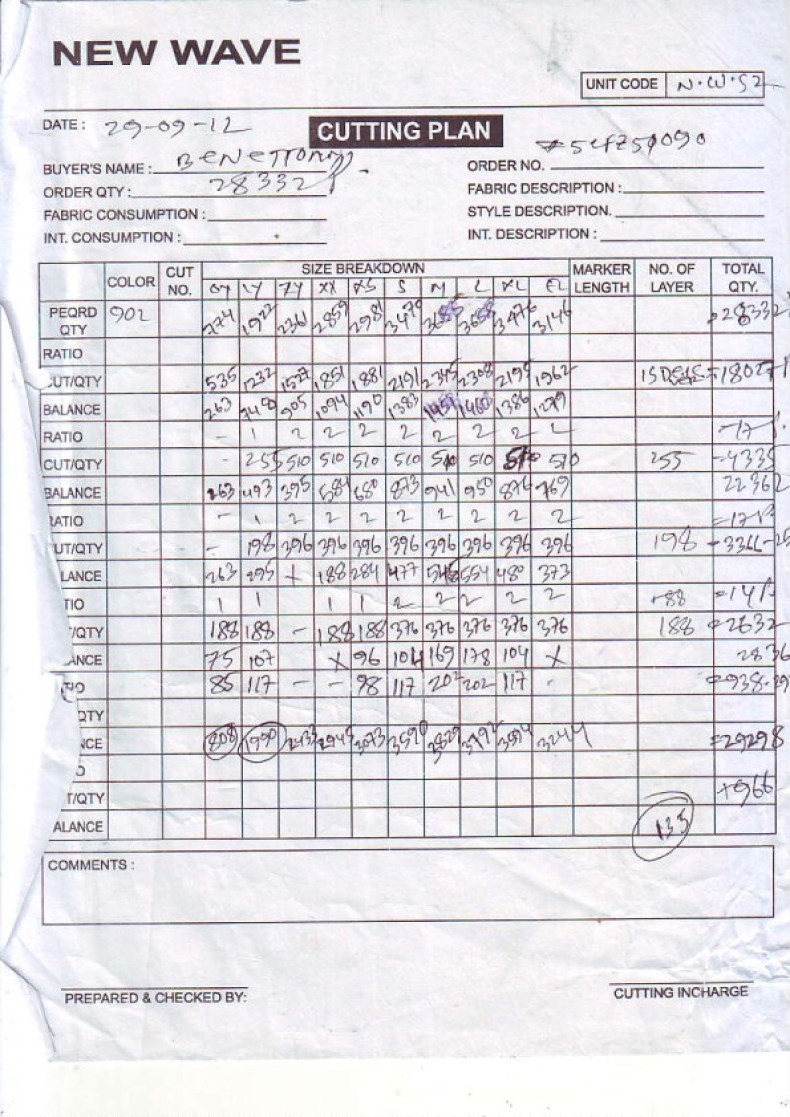 The Rana Plaza building contained five garment factories supplying major western fashion brands including Primark, Matalan, Mango and Benetton,
Britain's Primark and Bon Marche and Spain's Mango have admitted that their products were made in the block. Primark has agreed to pay compensation to the victims.
"Even if Benetton was sourcing from one of the factories only a few weeks prior, we would hope the company would have the heart to contribute to the compensation fund for victims, like Primark has," Liana Foxvog, of the International Labor Rights Forum (ILRF), told IBTimes UK.
"Benetton should also be asked whether they, or a third-party contractor, audited the factory and to make publicly available any results from those audits," she continued. "They should also join the Bangladesh Fire and Building Safety Agreement to prevent future deaths in their supplier factories in Bangladesh."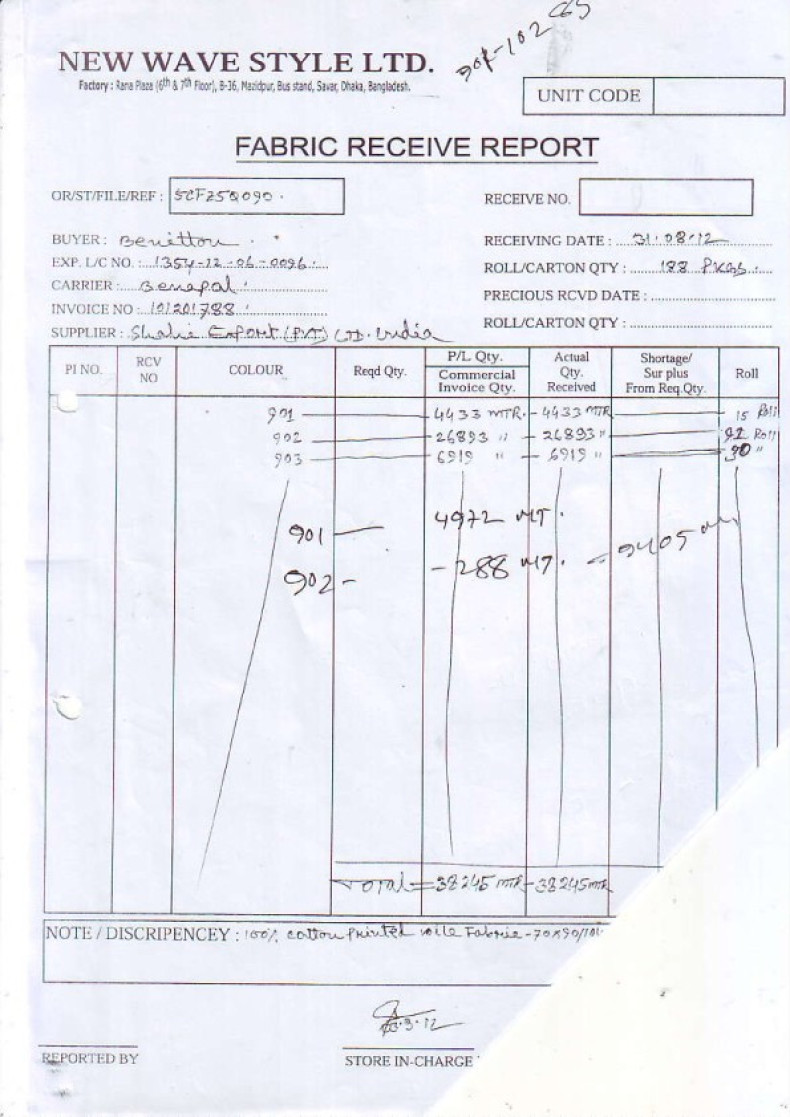 List of documents obtained by IBTimes UK:
Technical Comments dated 30 July 2012 for season Spring 2013. Supplier Shahi BD
Email correspondence dated 30 July 2012 and 6 August 2012 from Benetton India to Shahi containing package details, comments from Italy on a "bow" for production
A job order details labelled United Colors of Benetton printed on 7 February 2012 for sleeveless shirt, made in Bangladesh and destination Castrette, Italy's factory of Benetton for a total of 25,823 garments.
A cutting plan from New Wave Bottoms, one of the manufacturers based at Rana Plaza who lists Benetton as a client dated 29 September 2012 for a total of around 28,332 pieces
Another cutting plan from New Wave Bottoms dated 10 September 2012 for 7,247 pieces
Another document featuring the 28,332 pieces, the 7,247 pieces and the 9767 pieces for a total of 45,346 pieces.
A list of Shirts: total 27,611; Sleeveless shirts: 45,346
Fabric receive report dated 1 August 2012