Senator Bernie Sanders is the latest US politician to slam President Donald Trump for his refusal to denounce white supremacists for their race-fueled violence directed against anti-fascism protesters in Charlottesville, Virginia, over the weekend.
One woman and two police officers died after violent clashes broke out in the university town on Saturday (12 August).
Trump's failure to condemn the far-right has angered both Democrats and Republicans and led to a storm of criticism.
Facing mounting pressure, Trump named and condemned hate groups as "repugnant" and declared that "racism is evil" on Monday.
But the president changed his tone during a press conference in New York the following day, when he drew a moral equivalency between both sides and said that the so-called 'alt-left' were just as much to blame for the violence as the alt-right.
"You had a group on one side and group on the other and they came at each other with clubs – there is another side, you can call them the left, that came violently attacking the other group. You had people that were very fine people on both sides," the US president said.
Trump defended far-right marchers, telling reporters "not all those people were neo-Nazis, not all those people were white supremacists. Many of those people were there to protest the taking down of the statue of Robert E Lee".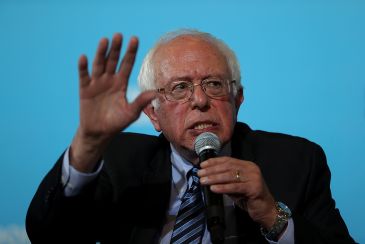 Sanders took to Twitter to criticise the president's latest remarks on Charlottesville, calling them "embarrassing to our country and the millions of Americans who fought and died to defeat Nazism."
In another tweet, the Vermont Senator wrote: "The violence in Charlottesville was not caused by the 'alt-left,' (whatever that may be). It was caused by Neo-Nazis and white supremacists."
Trump's comments also drew criticism from other lawmakers, including House Speaker Paul Ryan who said that there could be no "moral ambiguity" regarding the events in Charlottesville.
"We must be clear. White supremacy is repulsive. This bigotry is counter to all this country stands for," he wrote on Twitter.