Nearly 3,000 dogs are competing to win Best in Show at the annual Westminster Kennel Club dog show in New York. Dog owners spend a lot of money – sometimes hundreds of thousands of dollars – in order to have the chance to win the top prize, but winning is more about gaining prestige and breeding opportunities as there is no monetary compensation.
The two-day event has drawn challengers from all 50 US states and 16 other countries. Now in its 142nd year, it's the second-oldest US sporting event, after the Kentucky Derby horse race. This year's competition features dogs from 201 breeds and varieties.
Before the dogs can be judged, they undergo a great deal of grooming. IBTimes UK takes you backstage at Madison Square Garden as pampered prima donnas are given a last-minute cut and blow-dry before they walk the runway.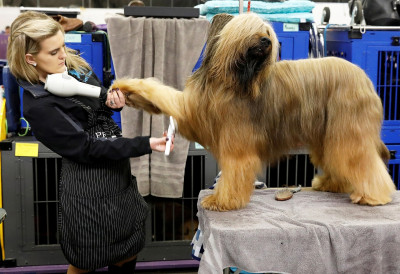 Dogs are divided into seven groups: hounds, toys, nonsporting, herding, working, sporting and terrier. The dogs crowned champion of each of the seven groups then vie for the Best in Show trophy, which will be announced around 11pm New York time tonight (Tuesday 13 February).
So far, this year's contenders include a jaunty bichon frise named Flynn, a border collie named Slick, a borzoi named Lucy and a pug named Biggie.