Twitter can be an awful place. Dreadful trending topics, horrible clickbait and accounts relentlessly retweeting Piers Morgan onto your timeline no matter how many people you block mean it can be hard work. It's not all bad, though. The denizens of #footballtwitter have had plenty to laugh and point at online in 2015. IBTimesUK have spent the year liking and screenshooting the best of them so we have something to look back on ahead of the New Year.
Partick Thistle unleash their new mascot on the unsuspecting planet
In June, Scottish Premiership side Partick Thistle unleashed this gruesome embodiment of pure evil upon masses of unsuspecting Twitter folk. Kingsley, as the beast was named, dominated social media for the rest of the week as users questioned why a club would engineer such a terrifying image to represent them. Just looking at the depraved sun god now brings it all back now.
Saido Berahino blocks West Brom
Twitter loves a transfer saga. In an age where a player liking or retweeting a newspaper article linking them with a move is now taken as Holy Gospel that said move is will happen, some thrive more than others. West Brom striker Saido Berahino was the subject of four offers from Tottenham Hotspur during the summer transfer window and wasn't best pleased when the club rejected all of them. The England Under-21 international took to his Twitter account to declare he would never play for the Baggies again and, in a final act of defiance, unfollowed them. It took him literally months to re-follow them. Twitter drama at its finest.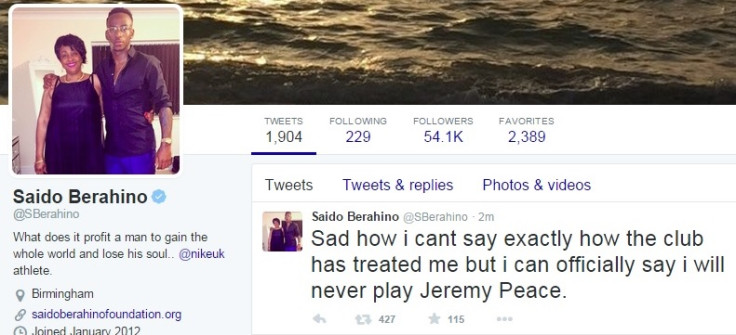 Neymar joins Limerick
The prospect of Neymar leaving Barcelona for Manchester United is slim enough, so you could forgive someone for doing a double take when the Brazil superstar was pictured holding aloft a scarf announcing his arrival at Limerick FC of the League of Ireland. It turned out this was 16-year-old Barry Cotter, who just happens to be an absolute dead ringer for the Brazilian. The tweet made headlines around the world (note, it may have been a slow news day).
Yann M'Vila sent off in his first appearance for Sunderland... for the reserves
A bit of a gem, this one. Yann M'Vila, who had spent the previous three years undergoing a medical at Arsenal, rocked up at Sunderland during the summer transfer window, determined to turn over a new leaf following controversy-ridden spells in France and Russia. But given his story – which can read about in all its glory here – his spell on Wearside was never likely to be a quiet one. Not even waiting for his Premier League debut, the powerful midfielder didn't take kindly to a rough challenge on one of Sunderland's young reserve players and went steaming in to nut an unsuspecting Norwich youngster for his trouble.
Aaron Lennon arrives at Everton
What is the best thing about transfer deadline day? The photographs of ashen-faced footballers holding aloft their new shirt in a hastily-arranged photo shoot, of course. 'WHAT HAS HAPPENED AND WHAT AM I DOING HERE?' their eyes scream.
Leaving Tottenham Hotspur for Everton is hardly the end of the world, though. Tell that to Aaron Lennon, whose unveiling photo showed him looking like someone who has been stood at the bar for 20 minutes without being served only to be snubbed in favour for the guy who has just walked in.
Jenna Jameson and Jason McAteer hit it off
In one of the more unlikely news stories of 2015, we found out that Jenna Jameson, one of the most famous adult film stars of all time, was a fan of former Liverpool and Republic of Ireland defender Jason McAteer. Jason McAteer, the man who once asked for his pizza to be cut into four slices instead of eight because he felt he couldn't possibly manage to eat that many. We'll let the tweets do the talking.
Unsurprisingly, the messages of congratulations flooded in.
Harry Redknapp joins Twitter
It wasn't just a top, top parody account. Following on Alan Shearer's successful arrival, Harry Redknapp was soon on the Twitter scene. 'Let's see what this is all about then," he wrote. Before long, the former QPR boss was induldging us in the social media equivalent of the leaning out your car to discuss a new signing as he predicted and discussed imminent transfers for clubs across the country. Hang on, are we sure it wasn't a parody account?
Chat s**t, get banged: The Jamie Vardy Story
Jamie Vardy's rise to prominence in the second half of 2015 was remarkable. In November, he shattered the record previously held by Ruud van Nistelrooy when he netted his 11th consecutive Premier League goal. That rise was accompanied by one phrase. One existential phrase that has since become synonymous with Vardy. Chat s**t, get banged. Somehow, a forgotten Facebook post from 2011 went viral and will now forever be associated with a Premier League record holder. In case you are unfamiliar with it, let's break it down:
Chat s**t: To speak disparagingly, often insultingly or abusively about a person or group.
Get banged: To engage one physically.