Béziers: Fear and loathing and the Front National
Governed by far right mayor Robert Ménard, this historic city is what France might look like under Marine Le Pen.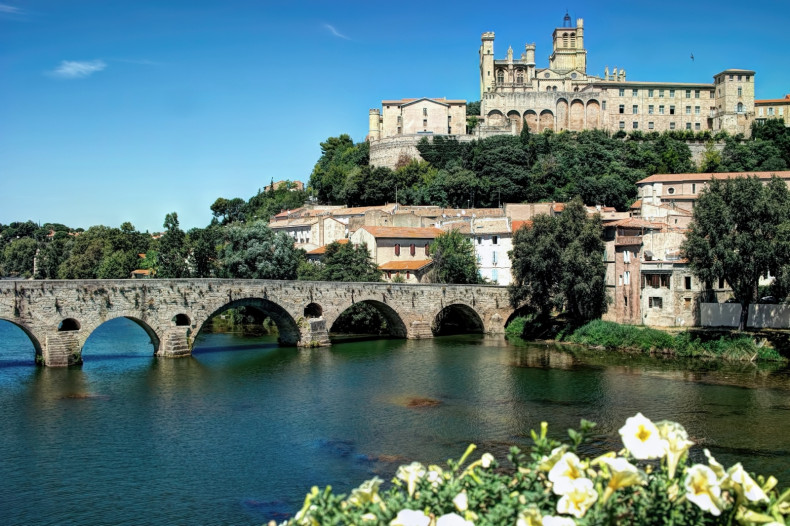 For an idea of what France might look like under a Marine Le Pen presidency, one need only look at Béziers. The picturesque Languedoc-Roussillon town, with its narrow alleyways and yellow-stoned churches, was built on winemaking. Nowadays, however, it is now one of the poorest areas in France. One third of its 71,000 inhabitants live below the poverty line.
Béziers' outspoken, anti-immigration anti-EU mayor Robert Ménard has turned the town into a case study for right-wing French politics in the 21st century. The National Front (FN), which propelled the independent mayor to victory, is energised like never before as a wave of populism sweeps Europe. A wave that could propel Le Pen to the Elysée Palace in April and May's presidential elections.
In an upstairs room in a café on Béziers 19th century Allée Paul-Riquet, walls adorned with vintage posters advertising different brands of the regional aniseed-based spirit pastis, members of the FN and supporters meet to discuss the upcoming vote. The party officials are young, but the members at the gathering are mostly elderly and retired.
Cutting immigration
This is the French south, where a certain sartorial flair is expected, so among the pressed suits is one decorated pink jacket worn by Annie Fort, a retired FN member with dyed blonde hair, and her friend Jean-Louis Scolari, also retired, who sports a handlebar moustache.
At the heart of their conversation is the issue at the centre of Le Pen's campaign: immigration. The FN leader has pledged to dramatically curb immigration to France by 80%, if she is elected, to 10,000 arrivals a year. She has also said she believes the majority of arrivals to France are economic migrants and has called genuine political asylum seekers an "ultra-minority".
Bruno Lerognon, 57, a local police commandant, believes Le Pen is the only candidate with a sound approach to immigration. "I think she will settle the immigration issue, all these illegal immigrants that come into our country," he says. "I think she is the only one able to control immigration in France."
The others nod in agreement. Fort says she simply "can't stand it anymore", while her husband, Émile, dismisses the idea that there is an economic case for immigration as "absurd". The strength of feeling over immigration in the room is one of the key reasons Le Pen has consistently polled over 20% nationally throughout the election campaign, often leading her four main rivals.
For these supporters, immigration informs what they think about the EU and why their region has become economically stagnant. They are buoyed by Le Pen's promise to call a referendum on France's membership of the EU and then campaign for it to leave, as the UK did in June 2016.
Gérard Prato, secretary for the FN in the department of l'Hérault and one of the party's most visible faces in the area, explains he believes French companies have struggled because of cheap labour from Europe. "I was in Montpellier and the hostel in front of the station is getting refurbished, and it's only Romanians or whatever [working]. The problem is that these people are not on same page as us, socially, fiscally speaking," he says. "We clearly see today that French companies are drowning."
Anti-Muslim feeling among some of the Le Pen supporters is also palpable, although the varying strength of opinion in the group separates its members. "Moderate Muslims, they are sitting back and watching it all happen. So let me say why I don't like Islam. Islam, I mean I have to say it, it's opposing Christianity. They want our doom, and we know it," Émile says. "When someone wears a small headscarf, that's fine. But having woman in black, dressed like bin bags, and walking the streets, I mean it's unbearable," says Annie.
The police commandant says he believes Islam is used to shield discontentment in the community and criminality. "These terrorists, they are Islamo-scum, thugs, criminals, and they're using their so-called religiousness as a reason for their hatred for society, for other people. How do you want to cure a criminal?" he asks.
Prato explains that he doesn't wish to see a larger Muslim population in France, but adds that most of the community want to live in harmony. "Let's try to be logical here, all Muslim people are not radical, it's mostly people that came here, are working here, praying in peace," he says.
The group is universally ecstatic about the election of the city's controversial mayor, Ménard. They say he has cleaned up Béziers and speaks honestly about the important issues. Part of the mayor's principle draw to right-wing voters is that he is willing to say in public what they would normally only discuss in private.
"People don't feel safe"
Inside the large and stately offices of the Béziers mairie, Ménard sits behind a large desk quietly working at papers as the sun shines in through a wide window. A slim, diminutive man, when he speaks about Béziers and his plan for the town the former journalist is combative.
"I began by talking in real words the real problems of the city and talking with real people," Ménard says, explaining his election victory. "What people could see was it was immigration."
Elected as an independent but with the fervent backing of the FN on 30 March 2014, Ménard says the city he inherited was a disaster. "You could walk in the streets to discover how it had been left to rot. How dirty it was, how the city centre was in a terrifying state. People didn't feel safe, and were sick and tired of the previous team," he says.
Part of the city's image problem is its Muslim community, Ménard feels. "When I go to the market on Fridays, Friday is the day of the big market here and I see people selling prayer rugs or Qurans, playing religious music. I am not sure that this is a sign of integration. I think that religion and because I respect mine I respect the others, [but it] has to be done inside churches, mosques... It's not in the street and all of those are signs of a failed integration," he says.
Like almost everything the mayor has touched, his methods of cleaning up and policing Béziers have been deeply controversial. The left has called his curfew for young people a disproportionate attack on poor minorities. Ménard has also used his authority to enforce a ban on public spitting and the hanging of clothes on balconies.
But he has also landed himself in legal difficulty over his more controversial statements on integration in Béziers schools. Ménard is currently awaiting an appeal verdict after he was found guilty of inciting hatred and ordered to pay a €1,800 fine. He was charged after saying on the French LCI channel: "In a downtown class in my home town, 91% the children are Muslim. Obviously, this is a problem."
His statements were coupled with a tweet he wrote in September 2016 saying "#Representedclasses: the most striking proof of #GreatRemoval in progress. Just look at old class photos."
Speaking before his trial in February 2017, he stands by the comments. "When in a school in Béziers there are 90% Muslims... sorry, but it is for them that it's a bad thing. You are sure that those children are going to fail. They won't receive their diploma. They will come out of school without knowing how to write, read and count."
Curbing extremism
Béziers Mosque in the east of the town is packed for Friday midday prayers. In the men's section worshippers sit so closely that those trying to reach the front must pick carefully through the crowd. Dozens cannot see inside and settle to listen and then pray in the area where worshippers leave their shoes on small wooden shelves, hidden from outside by a translucent plastic sheet. The mosque's Imam gives his sermon in both Arabic and French, switching between the two languages.
Legislating France's mosques has been part of the presidential election campaign. During the Republican primaries, former Prime Minister Alain Juppé said he would ban Arabic-language sermons in a bid to curb extremism. The principal subject of the day's sermon to the majority Moroccan origin crowd in Béziers is the importance Islam places on healing the sick.
After prayers six of the worshippers meet in one of the mosque's adjoining rooms to discuss life in a Béziers already influenced by right-wing politics. For the group, Ménard's stance towards Muslims is characterised by hate. "Here it's like he's confusing his personal hatred and the city affairs. Hatred is opposed to humanity, hatred is dark, is against the Republic," Mohammed Rahouani, a business owner, says.
Daoudi Lahouri agrees. He explains that he met the Béziers mayor prior to his election. "This is someone that has that hatred within him, hatred against many communities. And particularity against Muslims. Every time he talks, it's all about Muslims," he says. "The problem is what happened at Béziers what he instilled here: fear. People are becoming more and more afraid."
Racism has become a part of regular life for members of the group. Rahouani explains that just one week ago, a man came in his shop to hurl abuse at him. "That guy was a little bit angry, maybe because he had some issue, maybe because of me. He told me: 'Foreigner, go home.' I guess, he didn't understand that I was home in my shop," he says.
The situation only resolved itself after Rahouani confronted him. "I said if it's not enough, come on, hit me, and I will go to the police. This how it ended and it's ugly," he explains. For Melissa Benquire, who is a French convert to Islam, the abuse is daily, something she attributes to her decision to wear the hijab. "For women wearing hijab, it's everyday actually. How many times did they tell me to go home. Yes, as if. Yes I will head back to 'Muslimland' . It's completely crazy," she says.
The group feels that beyond Béziers and beyond Ménard the attitude towards secularism in France has morphed and is being used to attack their religious freedom, rather than protect it.
"The word secularism has an altogether different meaning now. When you listen to people, it's like the 1905 principle was against all religions. While in fact it wasn't against religion, it meant accepting all religions and respecting them. Respect other people's religions," Linda Mendy, the president of a local charity, says.
Benquire agrees. "Secularism, initially, is living together with our differences. Respect other people's religions, don't impose yours or whatever. Secularism now means: you got a particular religion, it's a problem."