Bianca Jagger has accused Prime Minister David Cameron of "scaremongering" over the number of jobs the UK could miss out on if it does not commit to shale gas drilling.
The human rights activist and former actress told IBTimes UK the government should invest in renewable energy and warned fracking was a "real danger" to the environment.
"Look at Germany, look at all the jobs that Germany has created with renewable energy. Instead of investing in fracking, which I don't see will benefit the average person in this country, we should be investing in renewable energy," she said.
The prime minister has claimed the industry could create 74,000 new jobs, through drilling and support businesses, in the UK as well as lowering energy costs.
"If we don't back this technology, we will miss a massive opportunity to help families with their bills and make our country more competitive," he said in 2013.
"Even if we only see a fraction of the impact shale gas has had in America, we can expect to see lower energy prices in this country."
But Jagger said the jobs argument is "all scaremongering" and suggested Cameron and the chancellor do not care about working people.
"Since when has Cameron and George Osborne cared about the working people of this country, I would like to know that?" she asked
Infrastructure Bill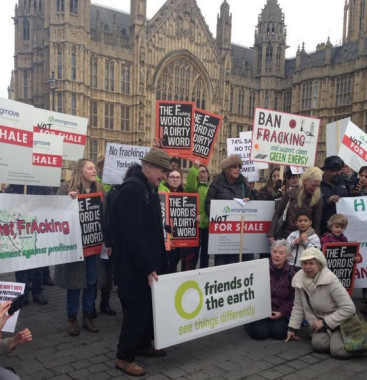 Jagger was among hundreds of protesters outside of Parliament demonstrating against the government's Infrastructure Bill, which could see landowners stripped of the power to block fracking beneath their homes.
But MPs on the Environmental Audit Committee will attempt to amend the draft legislation today (26 January) to stop fracking of shale gas.
"Ultimately, fracking cannot be compatible with our long-term commitments to cut climate-changing emissions unless full-scale carbon capture and storage technology is rolled out rapidly, which currently looks unlikely," said Joan Walley MP, the Labour chair of the committee.
The Institute of Directors (IoD) claimed the group of MPs were "hopelessly misguided".
"This hopelessly misguided report completely fails to recognise that by refusing to extract our own gas by fracking, the only results will be that the UK imports more gas from abroad," said Dan Lewis, senior infrastructure adviser at the IoD.
"It also ignores the important use of natural gas in heating our homes and the UK's manufacturing industries.
"Our political leaders already have all the information they need to decide that shale is an important part of our energy mix, and should push ahead for a well-regulated fracking industry that creates jobs and reduces our reliance on imported gas."
The rally outside of the House of Lords was attended by members of the Green Party, Friends of the Earth, Greenpeace, Occupy Democracy, Frack Off London and others.
The demonstration comes after Osborne reportedly asked ministers to make interventions to fast-track fracking.
A letter leaked to The Guardian said: "I would ask that you make it a personal priority to ensure that these are implemented within the agreed timescales."