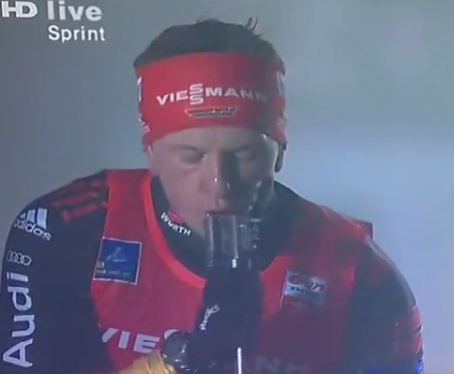 A top athlete put a rifle to his mouth in a shock move broadcast live on television.
Viewers watched as biathlete Florian Graf, 24, stopped and made the move while under high pressure at a crucial moment in a biathlon race - which combines cross-country skiing with target-shooting.
At the event in Oberhof in Germany, he turned the rifle away from the target and aimed it at his own face instead.
Graf was trying to unblock the gun barrel which had malfunctioned at a crucial moment. Snow had clogged the barrel and Graf was blowing it out.
But as the rifle was loaded with live ammunition, his action ran the risk of blowing away a lot more than just snow.
Judges took a dim view of the episode and disqualified him from the race, with the prospect of a lengthy ban to follow.
British biathlete Mike Dixon explained why Graf faced such heavy sanctions.
"The bullet's exit speed is 500mph. It's deadly, and you absolutely do not want to be looking down the sharp end of that barrel," Dixon told Yahoo Sport.
"If you have snow on your sights you have to keep the rifle pointing down the range and then blow down the sight from the safe side - don't ever turn the rifle towards your head.
"And even the arc that crosses through the crowd - you never, ever point the rifle towards the spectators."