Billy Graham, known to many as 'America's pastor', passed away on Wednesday (21 February), bringing an end to one of the country's most remarkable public lives.
Born in North Carolina in 1918, the influential pastor become a close confidante to numerous American presidents from Eisenhower to Nixon. He preached to nearly 210 million people through his evangelical 'crusades' which brought him to nearly every country in the world during his six-decade career.
"The Bible says," was his catch phrase. His unquestioning belief in Scripture turned the Gospel into a "rapier" in his hands, he said.
He was nearly expelled from Bible College
Following his high school graduation in 1936, Graham attended Bob Jones College in Tennessee but admitted he struggled under its excessive focus on coursework and rebelled against its strict rules.
Bob Jones Sr, one of America's pioneering religious broadcasters, refused to exclude him citing his huge potential.
He said: "At best, all you could amount to would be a poor country Baptist preacher somewhere out in the sticks.... You have a voice that pulls. God can use that voice of yours. He can use it mightily."
He was a supporter of the Democratic Party
In later years Graham leaned towards the Republican Party and endorsed Mitt Romney in 2012, but was at one stage a registered Democrat. Graham believed politics came a distant second to promoting the word of God and usually avoided making his opinions publicly known.
"Evangelicals can't be closely identified with any particular party or person. We have to stand in the middle, to preach to all the people, right and left," Graham said in 1981.
Speaking with Katie Couric in 2005 he rejected the idea that evangelical Christians were natural Republicans and said "Locally, I'll vote one way and nationally, maybe another."
He opposed racial segregation in the South
In 1953, Graham removed segregated seating in his churches one year before the US Supreme Court's ruling in Brown v. Board of Education of Topeka, which effectively outlawed racial discrimination in education.
Graham very rarely attended marches but supported the civil rights movement in the United States during the 1950s and 1960s. He later regretted not attending a demonstration led by Martin Luther King through Selma, Alabama in 1965.
"I think I made a mistake when I didn't go to Selma", he said. "I would like to have done more."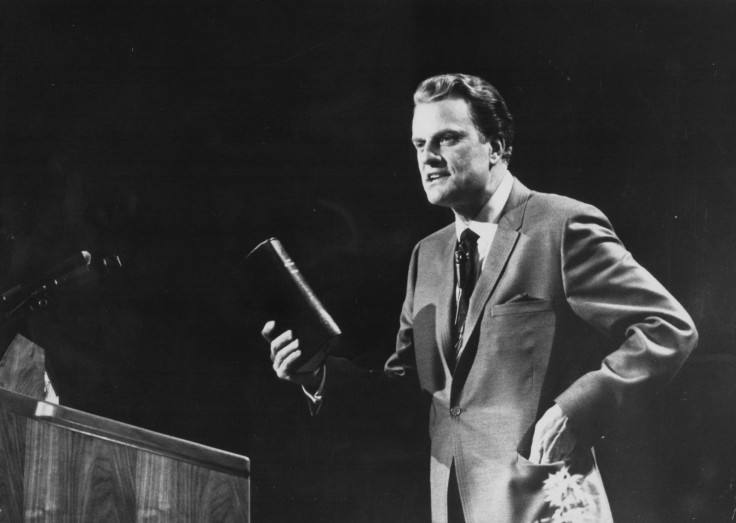 He preached to two million Britons during his 1954 London 'crusade'
Viewers of The Crown will be aware that the pastor dined with the British Monarch in 1954 but by then was already an international celebrity. Millions of skeptical Londoners turned up to see his sermons as he sold out football stadiums from Wembley to Highbury - and the public seemed to warm to his unique oratory style.
He apologised for anti-Semitic remarks made in the 1970s
Billy Graham was forced to apologise after a conversation he had with former president Richard Nixon surfaced in 2002. In the recording he said Jews "don't know how I really feel about what they're doing to this country."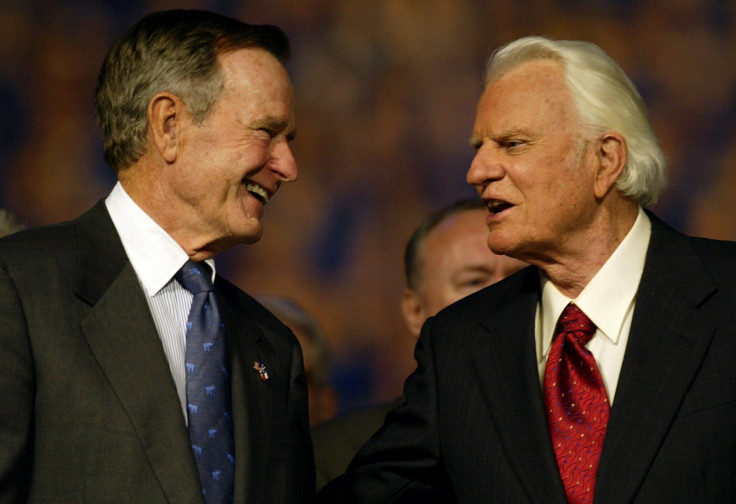 He visited 185 countries
His incredible career saw him preach to over 200 million people in virtually every country in the world, including former Eastern Bloc countries such as East Germany and Yugoslavia. Some of the countries he failed to visit were Saudi Arabia, Thailand, Portugal and the Irish Republic.
His popularity in Korea was unmatched
3.3 millions Koreans joined his five-day crusade to Seoul in 1973 and on the last day spoke in front of one million attendees - breaking the record for his largest-ever crowd. He was even popular in North Korea having visited Pyongyang twice in 1992 and 1994.