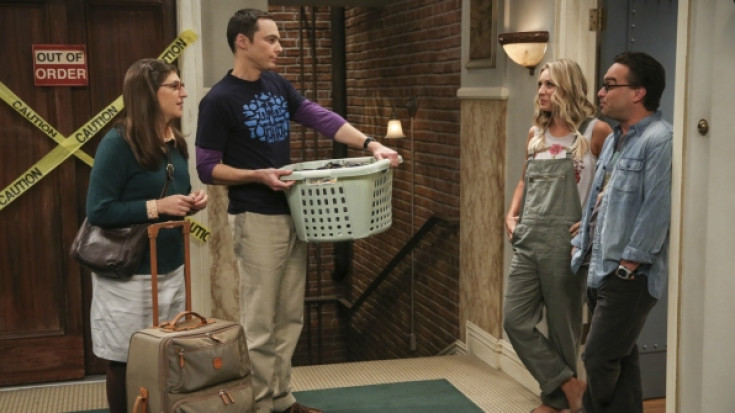 The Big Bang Theory star Kaley Cuoco has shared a set photo from season 11 sets featuring the first look at co-star Johnny Galecki, who plays Leonard Hofstadter alongside her onscreen character Penny, on social media.
Cuoco posted the pic on Instagram, featuring Galecki and other co-stars Jim Parsons ( who plays Sheldon), Kunal Nayyar ( who plays Rajesh) and Simon Helberg ( who plays Howard) and called them "brothers."
All the actors are seen in their on-screen avatars, smiling for the camera as the caption reads, "#bts with my @bigbangtheory_cbs brothers ⭐️ many moons together!" alongside a heart emoji.
Her on-screen husband, Galecki too shared the same photo on his personal Instagram and captioned it saying, "Back to school. Season 11 (???!!!) is underway. @therealjimparsons @kunalkarmanayyar@normancook #simonhelberg@bigbangtheory_cbs #behindthescenes."
The show is currently filming for its upcoming season, which is set to premiere on 25 September on CBS Network. Previously, Mayim Bialik, who plays Amy Farrah Fowley, took to her blog, groknation.com to share some teasers from episode 1 and lots of set pictures.
She wrote, "I do want you to know that I had no idea all summer what Amy was going to say to Sheldon, or even if this first episode would reveal it! They could have done a thousand different storylines to keep you all waiting...but they pick up right where we left off."
Further revealing the opening scene of TBBT season 11, she insisted, "And by "right where we left off' I mean literally – RIGHT WHERE WE LEFT OFF. As in: same set, same body position, same robe for me and barely any makeup."
Adding the season 10 cliffhanger, where Sheldon proposes to Amy and the viewers are left wondering if the later will say yes, the 41-year-old actress promised, "So I won't say more except to say that you definitely get answers in this first episode!" she teased.