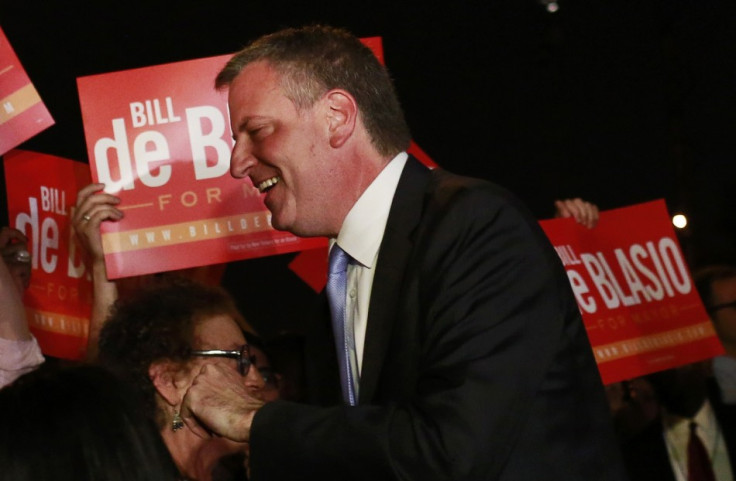 Bill de Blasio swept into office on a pledge to transform New York's 'tale of two cities' by ending income inequality, raising taxes on the evil 1%, doling out free or reduced-cost housing for poor and working-class residents, and establishing that all-important job-creating engine, pre-kindergarten education.
But just three weeks into his tenure as mayor of America's biggest city, the man born Warren Wilhelm in Manhattan 52 years ago has already raised hackles with his many detractors -- and even some of his staunchest supporters.
First, despite campaign pledges of bipartisanship and unity, his 1 January inauguration was filled with vitriol and venom. Calypso singer Harry Belafonte, oddly given a prime speaking role, served up some gruel as he derided the city for its "deeply Dickensian justice system." Newly appointed "public advocate" Letitia James brought a living prop on stage: a 12-year-old girl who, she said, was there highlight child hunger.
Even Sanitation Department chaplain Rev Fred Lucas got in on the act, deriding New York City under the outgoing mayor, Michael Bloomberg (just a few feet away in the audience), as a "plantation". The New York Times, which endorsed de Blasio's candidacy, ripped the petty parade of speakers for their "backward-looking speeches both graceless and smug".
What's more, word leaked that the glamorous affair cost nearly half a million dollars, including $16,984 on blankets for VIP guests and $35,250 for his honour's teleprompter. The "man of the people," the Times reported, wore "a dark blue Corneliani suit" purchased at the tony Park Avenue clothier Rothmans. Cost: At least $1,700.
That was just Day One.
De Blasio has already had a "-Gate" scandal -- Forkgate. The new mayor popped off last week for a photo-op at Goodfellas Pizza in Staten Island and was snapped eating a slice with, gasp, silverware. He explained: "I often start with a knife and fork, but then I cross over to the American approach and pick it up when I go farther into the pizza. It's a very complicated approach, but I like it."
Complicated indeed.
Yet not nearly as complicated as the terrain he is now navigating as a hardcore, far-left Liberal with a capital L. As President Obama has been forced to move toward the centre (who could have guessed he would expand George W Bush's domestic surveillance programme - and get away with it?), the party's "progressive" wing - not unlike the GOP's Tea Party faction - is making a play for more power.
To the lefties, de Blasio, who won 73% of the vote, is the answer to the many compromises they see befalling the Democratic Party. More, they fear what may lie in wait: a Hillary Clinton presidency, complete with sordid triangulation and political expediency.
Just as in 2008, Clinton is running as the frontrunner for the White House. But emerging from the wings is a virtual unknown, Massachusetts senator Elizabeth Warren, a far-left politico like de Blasio who recently advocated a $22-an-hour minimum wage. And the timing for the left may be just right: America - long held to be right of centre - appears to be moving left, at least on gay marriage and legal marijuana.
That new movement puts de Blasio squarely in the spotlight. He has big plans, like requiring private companies to provide mandatory sick leave and forcing developers to build affordable housing, whether they like it or not. And his "universal" pre-K programme would be a nationwide first, taxing the rich to come up with the needed $500m.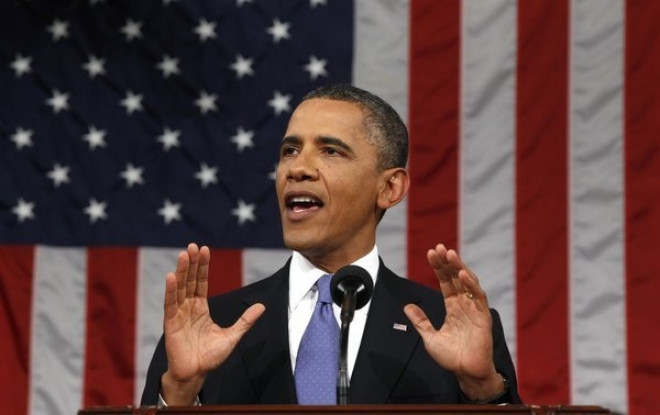 To that end, De Blasio is taking a page from Obama, running campaign-style ads to press the policy, and blanketing the city with flyers. "For over 15 years, Albany has promised funding for these programmes - and rarely delivered," the flyers say. "It's time for a new plan."
But like the intra-party battle within the GOP, in which the Tea Party is trying to shove Republicans to the right, de Blasio will have to battle more moderate elements in his own party, namely Gov. Mario Cuomo, who fiercely opposes raising taxes. While the state legislature in Albany is controlled by Democrats, it remains to be seen if de Blasio can call the shots there.
Still, New York City is about to become the nation's largest petri dish, and de Blasio will play the mad scientist conducting hitherto unseen experiments.
"With gridlock in Washington, cities are now the place to get things done," says Democratic strategist Mary Anne Marsh. "And there is no bigger stage than New York City. With de Blasio's overwhelming election mandate, if he can implement his proposals and keep the city running well, then that becomes the playbook every progressive will follow."
Joseph Curl is one of America's most forthright political writers, most notably as senior White House correspondent for the Washington Times. He is currently editing the Drudge Report, arguably the world's most influential political blog.

You can read the Drudge Report by clicking here, and find out more about Joseph and his views on Twitter @JosephCurl.