Chairman and co-founder of Microsoft, Bill Gates has said tablets like the iPad leave people feeling frustrated without a proper tying experience and no access to Microsoft Office.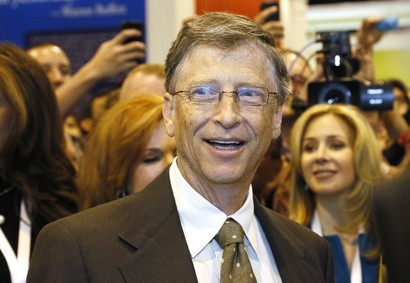 Gates was speaking to CNBC alongside Warren Buffet, his fellow board member at American multinational conglomerate, Berkshire Hathaway, where he played up the benefits of Windows 8 as a computing platform for both tablets and more traditional PC form factors.
"Windows 8 really is revolutionary in that it takes the benefits of the tablet and the benefits of the PC and it is able to support both of those," Gates said. However the interview came on the same day as Microsoft had to make a humiliating admission that its new operating system was "not perfect" and the company would need to change things "thoughtfully and quickly."
Gates has previously said of the iPad: "There's nothing on the iPad I look at and say 'Oh, I wish Microsoft had done it.'" In the interview this week Gates added that many people are left frustrated by today's most popular tablets.
Frustrated
"With Windows 8 Microsoft is trying to gain share [in a market] that has been dominated by the iPad type device but a lot of those users are frustrated, they can't type they can't create documents, they don't have office there," Gates said.
The advent of Windows 8 has led to a proliferation of devices which are blurring the lines between traditional PCs and tablets. From convertible laptops to tablet docking stations, Gates believes it is getting tougher to tell one from another. "It's going to be harder and harder to distinguish products, whether they are tablets or PCs."
However he said that one product does offer the best of both worlds: "If you have the Surface and Surface Pro you've got the portability of the tablet but the richness in terms of the keyboard, Microsoft Office of a PC."
According to IDC, sales of the Microsoft Surface for the first three months of 2013 accounted for less than 2% of the global tablet market, which is still dominated by the iPad.
Under fire
Gates was also asked about the recent Apple stock price crash, which has seen 40% of the value of the company wiped out in less than six months. Gates said that in situations like the one at Apple, it is the leader who comes under fire: "[In] tech companies, whoever is the leader is always questioned."
Gates was also questioned about China, and how it is hindering Microsoft's ability to grow revenue because of the problem of piracy. Gates called it "a uniquely high piracy market," saying that in comparison to the US, just one in 10 versions of Windows used there is an original copy, though that figure is beginning to drop slowly.
Gates said that unlike elsewhere in the world, piracy of Windows in China was seen in the likes of government institutions, state-owned enterprises and large businesses.