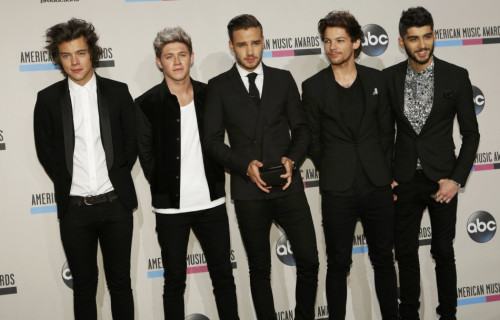 One Direction are on track to become the biggest band in the world by earning $1bn (£600m) in just 12 months.
The British boyband will enjoy their biggest payday ever thanks to blockbuster tickets sales for their upcoming Where We Are tour.
The 88-date extravaganza will see Harry Styles, Louis Tomlinson, Zayn Malik, Liam Payne and Niall Horan- become the first act to perform three sold-out consecutive nights at the 95,000-seat Rose Bowl stadium in California.
"It would be amazing for 1D to climb to the very top of the tour league so early in their career," a spokesman for the band told the Daily Star.
"That would be a phenomenal testament to the loyalty and support of their fans."
Not only will their latest earnings top the £447m record set by U2 for their 360° tour, it will also surpass the £339m earned by the Rolling Stones for their Bigger Bang shows.
Music industry insider Mory Brenner said the group's success was on the same level as the Beatles.
"You have to go back to 1964, when the Beatles led the British Invasion that turned American's music industry upside down, to find anything close to the following they have."
The news comes days after music mogul Simon Cowell revealed that One Direction were the biggest selling artists of 2013.
Their third album, Midnight Memories, was not only the bestselling album of 2013 in the UK but it also topped the US Billboard Top 200 chart in America, making them the first group in the charts history to debut at No 1 with their first three albums.
One Direction are preparing to release their new single Midnight Memories after unveiling the official music video for the track online.
They are also up for Best British Group and Best British Single at the 2014 Brit Awards